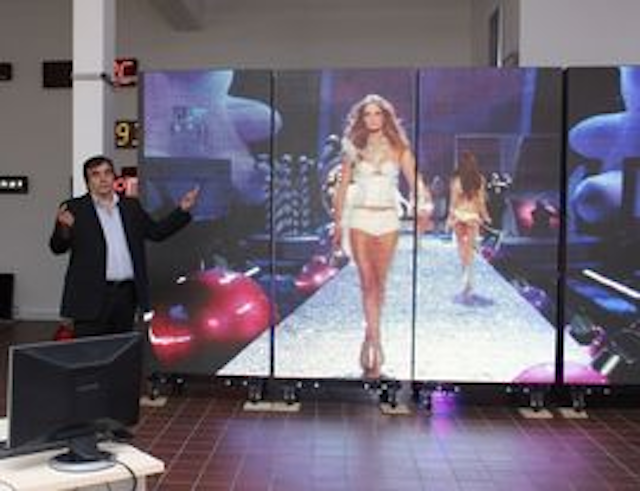 Date Announced: 13 Jan 2011
Megatex Inc., a Bulgarian LED products manufacturer, developed a revolutionary product, which combines LED technology and renewable energy. The Bulgarian company created a LED screen with an integrated solar panel – a combination of two breakthrough technologies.
Megatex combined the world's latest tendencies in the field of technology and created an efficient, clean and one-of-a-kind product. Megatex is a company thoroughly dedicated to innovations in the field of LED and LCD technologies and is one of the first world companies to introduce the innovative product to the market.
A solar panel of 5 kW capacity will power the electronic equipment of the LED screen. The innovative screen is designed for open-air applications and can be installed on stadiums, concerts or used as a billboard. What makes it different is the fact that the screen can be installed even in areas with no access to electricity such as highways.
Introducing this product, Megatex stays faithful to its innovative approach and adventurous style, which helped it make its breakthrough in 1989 – the year of the company's foundation.
Megatex sells its LED products on four continents -- Europe, America, Africa and Asia. The introduction of the efficient eco-friendly LED screen will pave the way of the company to new markets and will strengthen its position on the markets it has already set foot on.
Megatex is a major manufacturer of unique LED products, such as LED walls, LED screens, sport information systems, digital clocks and thermometers, digital transport systems, dynamic message displays. In 2010, the firm hit 30,000 LED displays sold worldwide.
Contact
Megatex Inc Headquarters: Alexander Stamoboliiski Str 205, Sofia, Bulgaria Press contact: Pozitano Str 145, 1309 Sofia, Bulgaria Phone: 00359 885885181 Contact person: Milena Veneva - PR and Marketing specialist
E-mail:mveneva@gtncorp.com
Web Site:www.megatex.bg