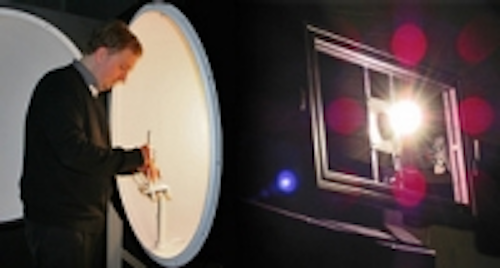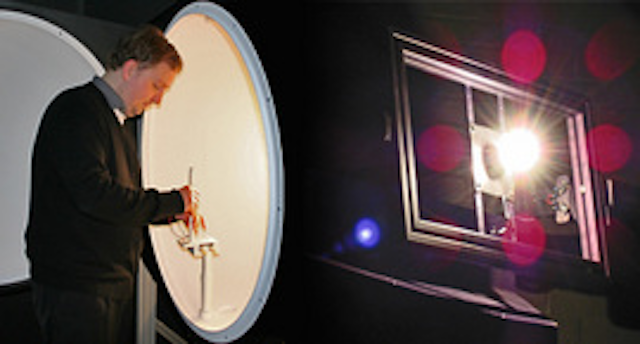 Date Announced: 06 Jan 2011
Those involved in developing the next generation of ultra-efficient lighting will know how important accurate photometric data is when it comes to being able to bring high quality products to market. Pro-Lite helps its customers save time and money with innovative photometric and goniophotometric test equipment for luminaires, solid state lighting, lamps and LEDs.
In addition to supplying test equipmement, Pro-Lite is now able to better support its customers with specialised measurement services which are provided from a new, state-of-the-art photometric dark room laboratory. The test lab is equipped with a Radiant Imaging NFMS0800 near-field imaging goniophotometer which is capable of handling luminaires weighing up to 25kg. The lab is also equipped with 25cm and 1m diameter Labsphere integrating sphere spectroradiometers. The laboratory will also serve as a facility for demonstrating Pro-Lite's product capabilities and supporting clients with testing for proof-of-concept.
The high speed Labsphere integrating sphere spectroradiometers measure spectral radiant flux in seconds, and give accurate luminous flux (lumens), chromaticity, colour temperature and colour rendering results for any type of light source - even LEDs. The NFMS near-field imaging goniophotometer performs computer-controlled angular luminous intensity and colour temperature measurements in order to generate standard photometric data in either IES & EULUMDAT formats. Pro-Lite's laboratory is also equipped with the latest photometers and colorimeters which are used to measure illuminance (lux), luminous intensity (candelas) and luminance (candelas per square meter) as well as CIE chromaticity (xy, u'v'), colour temperature (Kelvin) dominant wavelength and CRI (Ra).
Pro-Lite's photometric test laboratory represents a £150,000 investment and demonstrates the company's commitment to supporting the development of higher quality, more energy efficient lighting. The laboratory is located at the Innovation Centre on the Cranfield University campus in north Bedfordshire, UK - close to Milton Keynes.
Contact
Pro-Lite Technology Ltd Innovation Centre University Way Cranfield, MK43 0BT, UK Tel: +44 (0) 1234 436110
E-mail:info@pro-lite.co.uk