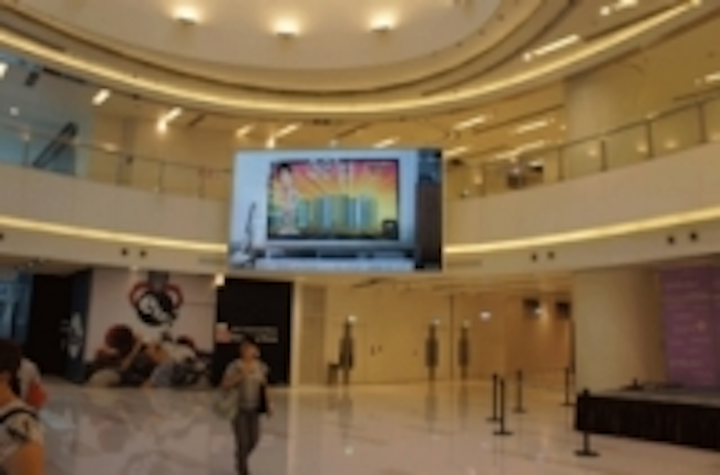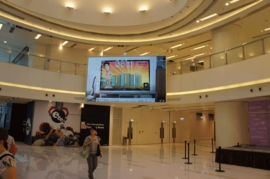 Date Announced: 04 Aug 2011
Hong Kong – Covering over 205,000 square feet, the new Mikiki shopping mall in Kowloon, Hong Kong, promises a unique retail experience in this fast-developing part of the city. Keeping shoppers up-to-date with the latest information is a large format Lighthouse screen.
Developed by Sun Hung Kai Properties, the Mikiki mall opens in August. Mikiki is Japanese for 'Experience' and the mall is designed to live up to its name. Advertising itself as 'a home of worldwide fashion labels and cutting-edge lifestyle brands', it features over 100 shops on three levels. Alongside a wide range of retail outlets, the mall also features food vendors, extensive recreation facilities and even grooming, play and restaurant facilities for pets.
Sun Hung Kai Properties also owns the prestigious apm shopping and commercial complex in Hong Kong, where Lighthouse recently completed the installation of an ultra-high resolution 4mm LED screen, Following this success, a main feature of the Mikiki's Atrium is a 9 x 7 panel (5.76m W x 3.36m H) Lighthouse 4mm black-faced front access LED screen, which shows relevant advertising and public information about events taking place at the mall.
With 4mm pixel resolution, vertical/horizontal viewing angles of 120¼ and a thickness of just 140mm, the 4mm panels feature 16 bit processing depth and M4 colour uniformity. Together with the ability to reproduce 281 trillion colours at a contrast ratio of 3300:1, it means that images are of exceptional resolution, even when viewed from close up.
In addition, the screen's minimal thickness means that it doesn't visually intrude on the aesthetics of the Atrium, while the front access has made for very straightforward maintenance.
"With its proximity to the new cruise liner terminal and other facilities, Mikiki is a prestigious development in a part of Hong Kong that is developing rapidly," says Peter Chan Lighthouse Managing Director. "We are very pleased that Sun Hung Kai Properties chose our 4mm black-faced front access LED panels, they are the ideal complement to the many high quality retail and leisure facilities that the mall hosts."
Lighthouse Technologies Limited is a global leader in LED display technology that develops, manufactures, and markets LED video display solutions for multiple indoor & outdoor applications, media and entertainment events, and sports arenas across the globe. With numerous technological breakthroughs to its name, Lighthouse has established itself as a multi award-winning leader in the LED display industry that holds itself to the highest standards of quality.
Founded in 1998 Lighthouse has a strong global presence with regional offices in Europe, North and South America, the Asia Pacific and China. Employing the most advanced technology, the highest quality manufacturing facilities, and world-class, round-the-clock technical support, Lighthouse satisfies customers on every major continent, captivating the imagination of millions. For more information about Lighthouse, please visit
Contact
Sarah James, Gasoline Media Limited, 9 Dalmore Avenue Claygate Surrey KT10 0HQ England. E-mail: sarahj@gasolinemedia.com Phone: +44 (0)1372 471472
E-mail:info@lighthouse-tech.com
Web Site:www.lighthouse-tech.com