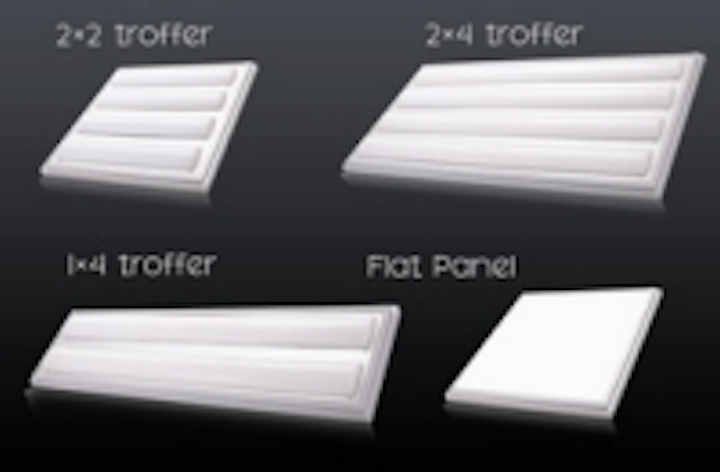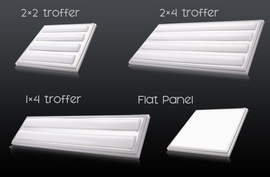 Date Announced: 09 Aug 2011
ATG iBright announces its new line of ETL-listed LED troffers. This line of troffers are reliable and cost-effective LED replacements for fluorescent troffers that are widely used in offices, hospitals, etc. They are offered in flat designs with three available dimensions: 1X4 ft, 2X4 ft and 2X2 ft.
iBright 1X4 is rectanglular in shape, consisting of of 2 pieces of 1.2m (4ft) LED engines and powered by a 1100 mA external driver;
iBright 2X4 consists of 4-piece 1.2m (4ft) LED engines and is powered by two 2200 mA external drivers.
iBright 2X2 is square in shape, consisting of 4 pieces of 0.6m (2 ft) LED engines and powered by an 1100 mA external driver.
The iBright LED troffer is an eco-friendly, solid-state LED lighting system which produce bright, even illumination while significantly reducing energy consumption. It adopts high luminous efficacy Samsung LEDs (80lm/W for the fixture).
iBright LED troffer is assembled by milky covers, which allow the light to be evenly distributed and create a homogenous, glare-free illumination.
Features & Benefits:
For more product details, please visit:
http://www.atgelectronics.com/lighting/Illumination/LED-Troffer.html
About ATG Electronics Corp.
Think Green, Act Green. ATG Electronics Corp., established in 1999 and formed partnerships with companies in California, designs, produces, distributes and licenses lighting emitting diode (LED) illumination and decoration lighting systems.
ATG's production is carried out strictly with ISO9001-2008 quality management standards. Their products are CE, UL and RoHS certified and are in the top ranks among similar products in the international markets; ATG's world-wide operation is managed through a customized ERP system and is highly efficient and transparent and therefore enables us to provide quick and high quality services to our clients.
ATG also offers a comprehensive OEM service package including consulting, individual planning design and engineering, cost analysis, delivery terms prognostics, manufacturing, and warranty. In addition, they license its patented technologies and provides technical support on project installation and system operation to create specified lighting effects for its customers throughout the world.
Contact
ATG Electronics Corp. International Sales Department Tel: +86-21-58350166 Fax: +86-21-58351977
E-mail:sales@atgelectronics.com
Web Site:www.atgelectronics.com