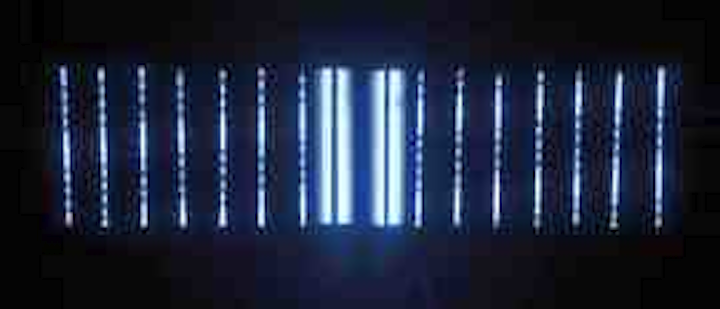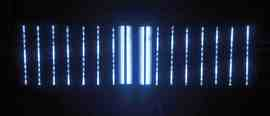 Date Announced: 22 Aug 2011
ArKaos, a provider of technology for live visual performances, has chosen the PLASA 2011 show to launch its radical new network protocol, Kling-Net.
Kling-Net has been designed to allow the distribution of real-time video data to remote display devices, such as LEDs or LED panels, over Ethernet.
The purpose of Kling-Net is:
•To allow the automatic configuration and connection of display devices to a computer
•To add some 'intelligence' into display devices to enable automated configuration
•To ensure a perfect time synchronization of multiple display devices.
•To avoid using expensive hardware video converters to send video to display devices
•To create a heterogenic network of display devices from different manufacturers, all controlled by a simple computer
Simple to Use
Kling-Net brings LED lighting within the grasp of every user.
"Many basic and first-time users are afraid of using LED lighting because of the complexity of networking and control issues," says ArKaos CEO, Marco Hinic. "Traditionally, using and networking LED lighting has required a high level of technical knowledge which has been a deterent for many. We wanted to remove all this complexity and replace it with a simple to use protocol which automatically takes care of the magic numbers for the user."
Kling-Net uses a Media Server to do all the work to simplify operation. It adds a layer of 'intelligence' to even the most simple LED device and enabling it to talk directly to the Media Server. This then enables the LED devices to be automatically configured, removing the need for complicated set-ups.
Auto Configuration
Kling-Net's automated configuration capabilities allow a large mixture of devices to be controlled by the same Media Server, and avoids the painful process of creating and matching profiles between the Media Server and each individual device.
At power-up, the LED devices are detected and configured automatically by Kling-Net before sending their resolution and pixel format to the Media Server. The Media Server can then read and change parameters from the device. This makes the whole process extremely fast and easy and minimises the potential for mistakes.
Once a device is registered to a Media Server, it will start receiving video frames, mapped by the user onto the Media Server's display, in real-time.
Because the Media Server performs the image clipping and transformation and generates the correct pixel format, the work to be done by the display device is minimal. And because the Media Server does all the work, video will still run at a smooth 60 FPS.
Added Intelligence - Simplicity - Economy
In order to allow auto configuration of display devices, some intelligence needs to be added to standard LED devices. A small micro controller is used to implement the support of a few network messages exchanged with the Media Server. The processor is very inexpensive to ensure a low cost duplication.
Network messages are managed by the Media Server and sent as either Broadcast or Unicast messages, with the default being Unicast to optimize the amount of 'traffic' and minimise the load of the receiver. Kling-Net also has robust error recovery enabling the Media Server to automatically reconnect.
"Kling-Net brings LED lighting within reach of even small clubs and venues by making it less technical and less expensive," says Hinic. "LED lighting is now simple to use and cost effective because our Kling-Net protocol means it is no longer necessary to use expensive devices to obtain sophisticated control."
Universal Application
Kling-Net has been designed to work with as many manufacturers' LED products as possible. It relies on a source code to transform even the most simple LED device into an intelligent Kling-Net device.
Licencing Kling-Net
Kling-Net can be embedded in any manufacturer's product under license from ArKaos.
The first company to licence ArKaos Kling-Net is Highlite International BV of The Netherlands. Kling-Net has been incorporated it into two new, dedicated products, known as Pixel Strip P25 and Pixel Batten P25.
To be launched at PLASA, Pixel Strip P25 is a 1m x 3cm LED strip of 40 pixels and Pixel Batten P25, a 1m x 15cm batten of 160 pixels. The new protocol means these fixtures can be connected, via a standard RJ45 cable, directly to a laptop running MediaMaster Express.
"We are very excited by Kling-Net," says Highlite Purchase Manager, Peter Buckx. "It is the first protocol for LED control that really is 'plug and play'. There is no need for expensive converters or specialist knowledge. You simply plug and play directly from the computer without any set up. We can see a really bright future for Kling-Net."
Pixel Strip P25 and Pixel Batten P25 will be on show at PLASA on the Highlight stand (1-F10), and are the first in a range of products to incorporate Kling-Net. There are plans for a Kling-Net controlled dance floor to be released by the end of 2011.
"Kling-Net opens the market to new lighting designers who have previously been deterred by the technical complexity and expense of LED lighting systems. Kling-Net removes these barriers and makes LED lighting available, easy and fun," adds Hinic.
Available from 1 August 2011, ArKaos Kling-Net will be officially launched at PLASA 2011 where members of the ArKaos team will be on hand to demonstrate and answer questions on this exciting new technology. A press call will take place on Monday 12 September at 12 noon on the ArKaos stand (Stand 2-R23) in the White Light Zone.
More details can be found at www.kling-net.com
Contact
Agnes Wojewoda Business Development Manager Tel: +32 (0)2 340 86 86 Mail: marketing@arkaos.net For Press enquiries please contact: Julie Harper PR & Marketing Tel: +44 (0)7990 974388/ +44 (0)1323 416810 Email: julie@joolzharper.co.uk
E-mail:marketing@arkaos.net
Web Site:www.arkaos.net