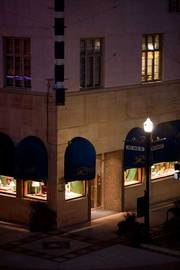 Date Announced: 25 Aug 2011
This comprehensive testing process was completed including in-situ temperature testing, photometric testing and CCT. Intertek is the accredited DOE lab that performed the in-situ temperature test component validating our design and confirming the fact that our light engine can be effectively installed in a wide variety of extreme environmental conditions.
The success of this testing validates our investment and proves the advantages of the LED Retrofit as a real solution for replacing conventional lamp sources in post-top fixtures. This gives Millerbernd a tremendous advantage in the LED Retrofit marketplace. The solution is universal, and will fit just about all decorative post-top style fixtures. The solution offers our potential clients to take advantages of LED lighting of reducing maintenance cost and up to a 50% energy savings. The LM-79 in-situ testing is an important tool to validate our design and solution.
The development of this solution and the increase in Green Technology awareness has been instrumental in making us a leader in this growing industry. We are excited to be on the forefront of this advancing, exciting market.
Contact
Mitch Gaida National Sales Director Millerbernd Lighting 320-224-8736
E-mail:mgaida@millerberndlighting.com
Web Site:www.millerberndlighting.com