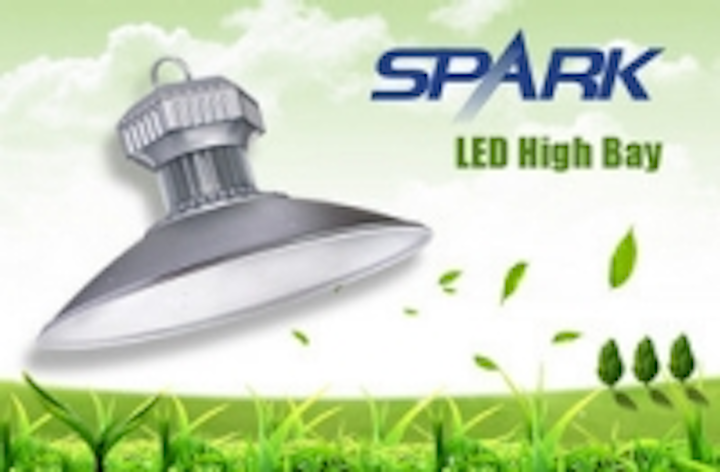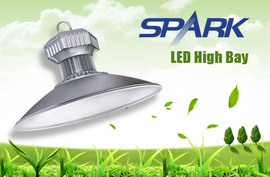 Date Announced: 08 Aug 2011
High bay lighting is used in high-ceiling areas such as industrial manufacturing and the mining industry. In addition to providing illumination under normal conditions, some high bay series lamps also have features of explosion-proof and anti-corrosion. It suits industrial lighting applications where large areas need to be lit for extended periods during the day and overnight.
SPARK has introduced its new generation big beam LED high bay light. The beam angle of the high bay light is 115 degree. Spark Big beam high bay light can meet more illumination requirements of customers. Compared with similar products, lumen output is greater and the lighting function is more stable. With a big lighting beam, the utilization rate of the light is greater, saving more energy.
SPARK LED High Bay performs very well in terms of the energy-saving and maintainance of efficient and stable working conditions by using US original CREE LEDs and a high quality power supply. LED High Bay has an excellent luminous efficiency and more than 70% energy will be saved comparing with traditional lights.
The unique heat-sink structure and good combination to power supply shield realize the effective heat release through conduction and diffusion to reduce the internal lamp temperature and ensure the long lifetime of the light source and power supply.
With a unique reflection coating inside, the reflection rate is kept high and light maintains a high level of uniformity. The high CRI makes the presentation of objects more real in effect. Various color temperatures are available enable to meet requirement of different environments by eliminating or reducing the depress moods because of the color temperature too high or too low from the traditional lamp, making the lights to be more comfortable and therefore improve the efficiency.
In addition, SPARK LED High Bay try to provide the best LED lights for industry application by driven at constant current and voltage and applicable for wide range voltage condition from 100V AC to 240V AC, which overcome the problems of power grid, noise pollution and instability light because of the ballast and avoid workers' eyes to be tired or irritated during work.
With strong and professional R & D team, Spark people devote themselves to the lighting career and keep continuous innovation. Lots of honors such as "Shenzhen Top Brand", "Shenzhen Independent Innovation Products", "Guangdong Independent Innovation Products", "Guangdong Hi-tech Products" and "Guangdong Innovation Enterprise" etc have been awarded by Chinese Government to Spark in 2011. In 2011, the great milestones also include Spark has been selected by Chinese Government to become one of "National LED Lighting Demonstration Project Enterprise", "Register EMC Enterprise" authorized by National Development and Reform Commission and Spark products have been displayed in Shanghai World Expo to demonstrate the innovation achievement by Chinese private enterprises.
Contact
Aileen Huang Spark Marketing Director Tel: (86 755) 8390 4366 Fax: (86 755) 8390 4766
E-mail:sales@spark-oe.com
Web Site:www.spark-oe.com