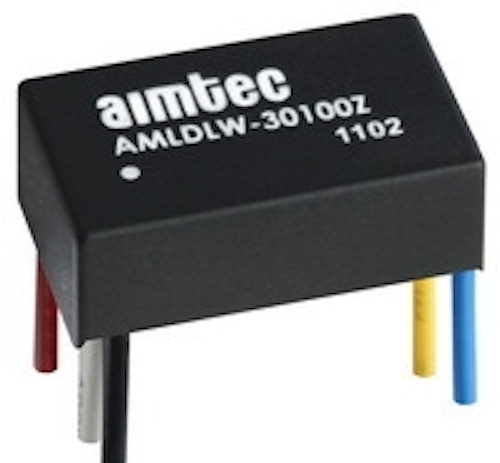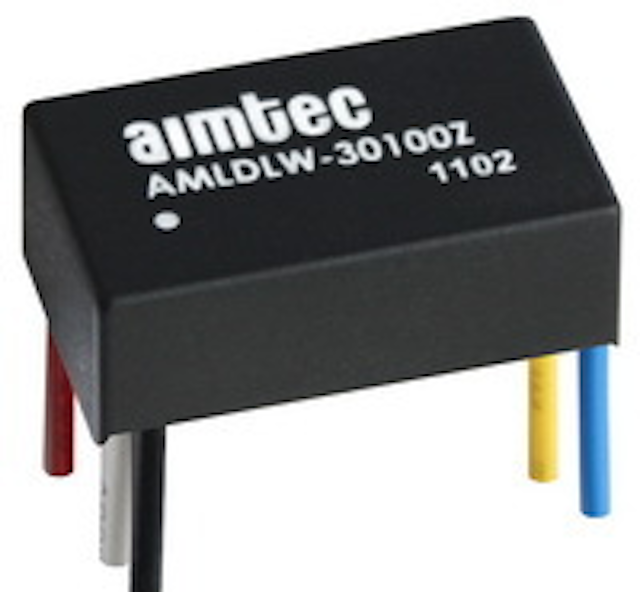 Date Announced: 18 Mar 2011
Vaudreuil-Dorion, Canada – Aimtec has expanded its line of DC/DC constant current LED drivers with its AMLDLW-Z series featuring wire connections that can be attach directly to the LED string.
AMLDLW-Z accepts a wide (4:1) input voltage range of 7~30VD, stepping down to an output voltage range of 2~28VDC and producing constant current outputs of either 350mA, 500mA, 700mA or 1000mA, based on the selected model. Maximum output power ranges accordingly from 9.8 watts to 28 watts, to support high-brightness LED applications.
Boasting efficiency rates of 95%, these feature rich LED drivers operate at temperature ranges of -40°C to +85°C at full load, for use in a multitude of indoor and outdoor applications. Value added features include open and short LED protection, PWM/digital and analog voltage dimming function and remove ON/OFF control function, making the AMLDLW-Z series an easy choice for luminary designers who seek a turnkey solution without the need of any external components. RoHS compliant, the AMLDLW-Z series of LED drivers is competitively priced starting at $6.98/1000+pcs with samples available from stock and can be ordered through any of Aimtec's franchised distributors.
About Aimtec
Headquartered in Montreal, Canada , with offices in Europe and Asia, Aimtec is actively involved in the research and development of modular switching power supplies. Aimtec's product portfolio includes modular AC-DC and DC-DC switching power converters and LED drivers. Aimtec's designs are intended to assist customers worldwide in reducing engineering design time and expense, while facilitating miniaturization and performance enhancement of their applications.
Contact
Aimtec 205 rue Joseph-Carrier, Vaudreuil-Dorion, QC, J7V 5V5, Canada T: +1.514.620.2722 F: +1.514.620.2725
E-mail:sales@aimtec.com
Web Site:www.aimtec.com