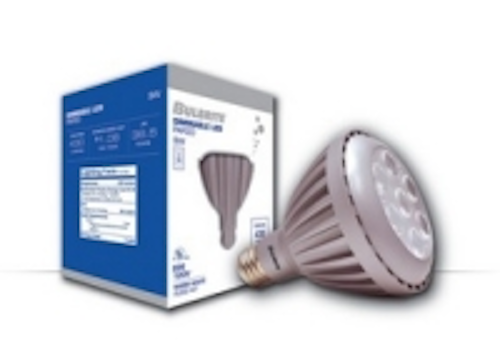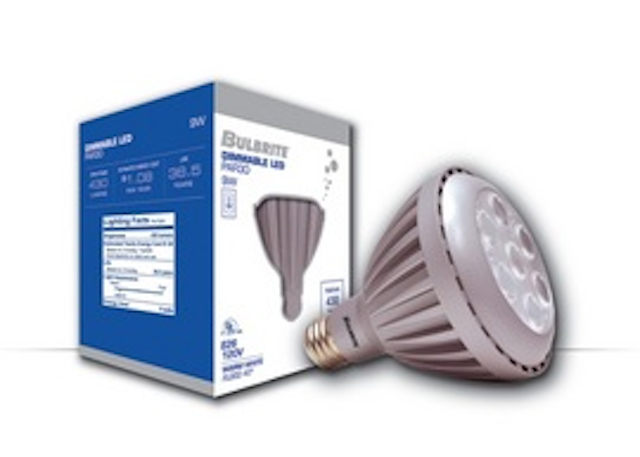 Date Announced: 17 Mar 2011
Moonachie, New Jersey---Continuing to upgrade its line of energy efficient LEDs, Bulbrite proudly introduces its next generation of LED PAR Dimmables. BULBRITE is a leading supplier of innovative, energy-efficient light source solutions and the premier educational resource for lamping technology.
Bulbrite's Generation 3 Dimmable LED PARs feature high-quality, fully dimmable LED PAR 30s and PAR38s . The lamps are engineered with unique integrated circuit (IC) dimming technology for extra-smooth dimming down to five percent light output, without any flickering or noise.
Generation 3 Dimmable LED PARs have an 80-plus CRI (color rendering index), with a CCT (correlated color temperature) of 3000K Warm White. Designed and engineered without mercury or lead, the environmentally friendly LEDs offer a rated life of up to 40,000 hours.
Operating on a 120-volt electrical system, the PAR30 uses 9 watts (approximately equivalent to a 35-watt PAR30 halogen bulb) while the PAR38 uses 11 watts (approximately equivalent to a 50-watt PAR38 halogen bulb). 25 and 40 beam spread versions are available, ranging in light output from 420 to 575 lumens.
Bulbrite LED PAR Dimmables feature superior thermal management that is highlighted with a patented heat sink channel system. The innovative heat sink reduces heat from the LED chip while cooling the electrical components inside the base. The channels direct airflow in and out of the base to keep the integral driver cool. This heat sink system allows for rapid heat dissipation while increasing lamp life and overall performance.
The lamps meet all of Energy Star's requirements and are Energy Star-pending. Bulbrite's energy efficient dimmable LED PAR lamps are UL listed for use in dry or damp locations and can be used with recessed or track lighting fixtures. The lamps can also be used for outdoor lighting in covered areas such as a porch light.
About BULBRITE
BULBRITE is a leading manufacturer and supplier of innovative, energy-efficient light source solutions. Celebrating its 40th Anniversary this year, BULBRITE is a family owned business renowned for its commitment to innovation, education and outstanding service. Most recently Bulbrite President Cathy Choi received the 2010 Residential Lighting Industry Leadership Award and the Bulbrite Swytch LED Desk Lamp received the 2010 Home Furnishing News Award of Excellence.
The company has introduced many innovative and design award-winning products, including its exclusive KX-2000®, Dark Sky, Purify 02, and Halogen R111 GU10, as well as ADEX award-winning GU24 Twist & Lock lamps, the 2012 EISA-compliant Halogen A19 and TURBO LEDs. BULBRITE offers an extensive line of light bulbs and lamping options including LEDs, HID, Compact Fluorescents, Fluorescents, Halogens, Krypton/Xenon, Incandescents, and a broad range of specialty lamps.
Top-notch service is achieved with an ALA-certified customer service, sales and operations teams and a national sales force of first-class professionals. 99% of the company's orders are processed and shipped Same Day using a state-of-the-art order entry, warehousing and distribution system. To help lighting professionals better understand the latest technology and developments, BULBRITE hosts a broad range of webinars, product training and seminars on light bulbs, LEDs and sustainable lamping options. BULBRITE is an active member of the American Lighting Association, a Silver Sustaining member of the Illuminating Engineering Society of North America (IESNA), an Energy Star Partner, a Lighting Facts LED Product Partner and a Member of the International Dark Sky Association.
Contact
Christopher Pica T. 631.262.0374
E-mail:Christopher@CPMediaRelations.com