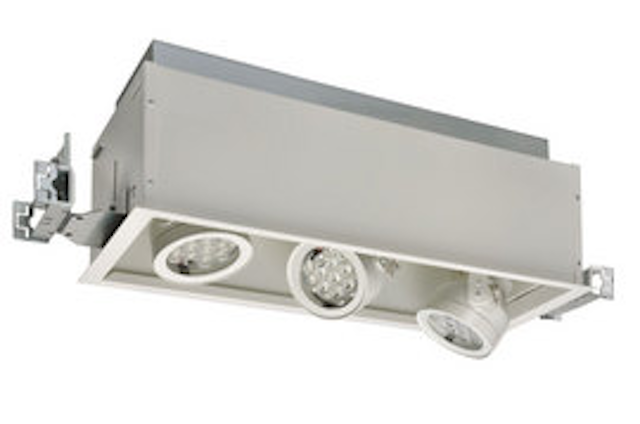 Date Announced: 07 Mar 2011
Des Plaines, Ill. — Juno Lighting Group®, a subsidiary of Schneider Electric, and leader in innovative commercial and residential lighting solutions, today announced the addition of the Indy LED Designer Cove™ and Indy LED Multi-Spot® luminaires to its Indy Multi-Lamp fixture portfolio. Designed for a broad range of retail and commercial applications, the Indy LED Designer Cove and LED Multi-Spot luminaires combine the same high-quality, flexibility and aesthetics the Indy Multi-Lamp portfolio is known for with unsurpassed performance and operational efficiencies of LED illumination producing up to 1,000 lumens of consistent, bright-white light from only 22-watts input. With the incorporation of LED technology, these luminaires also offer environmental and energy savings benefits, consuming 70 percent less power than equivalent halogen fixtures, and reducing operating costs by providing 10 or more years of maintenance-free operation in typical retail installations.
Available in two distinctive designs, the high-performance Indy LED Multi-Spot and LED Designer Cove luminaires recess into ceilings for a clean, uncluttered and attractive appearance. Both fixtures feature one, two or three LED heads, each approximating the output of a 75-watt PAR30 halogen, and offer three beam spreads, providing maximum versatility and performance. In addition, the heads easily detach from the housing to facilitate changes in beam spreads, color temperatures or future upgrades in LED technology. With 85 CRI typical and color temperatures of 2700K, 3000K and 4100K available, total fixture output can be as much as 3,000 lumens depending on specified color temperature. Both luminaires are also dimmable, fully adjustable and designed for simplified, quick installation in suspended grid, plaster or drywall ceilings.
Distinct features of the Indy LED Designer Cove fixtures include an open housing design with a fully adjustable yoke assembly. Each luminaire in the LED Designer Cove fixture can be rotated 355 degrees, tilted up to 75 degrees and locked into place. Attributes of the Indy LED Multi-Spot fixtures include an attractive closed-pan trim and integral snoots on the luminaires that provide improved shielding. In addition, each luminaire is capable of 360 degree rotation and 45 degree tilt.
The Indy LED Multi-Head Designer Cove and Multi-Spot fixtures are currently available through Juno Lighting Group channel partners. For more information visit:
http://www.junolightinggroup.com/Indy_Multi-Heads-LED_Splash.asp
.
About Schneider Electric
Schneider Electric, a global specialist in energy management, is a leader in offering high-quality, innovative commercial and residential lighting solutions and advanced system controls. Schneider Electric provides lighting fixtures offered in the product ranges of Juno®, Indy™, AccuLite™ , Aculux®, NaviLite® and DanaLite. Schneider Electric lighting and control solutions provide one of the most comprehensive energy-saving offers in the industry, combining automated and web-enabled control with occupancy-based solutions and dimming capabilities.
Contact
Alison Thompson, Text 100 for Schneider Electric 617-399-4909
E-mail:alison.thompson@text100.com
Web Site:www.junolightinggroup.com