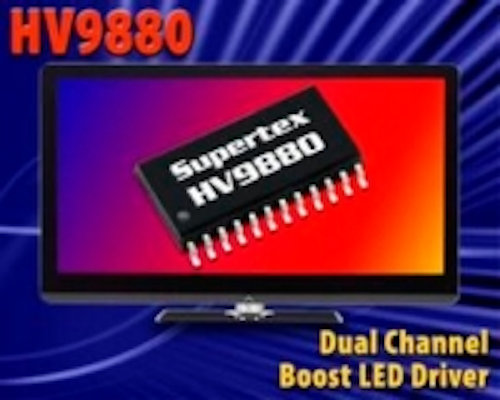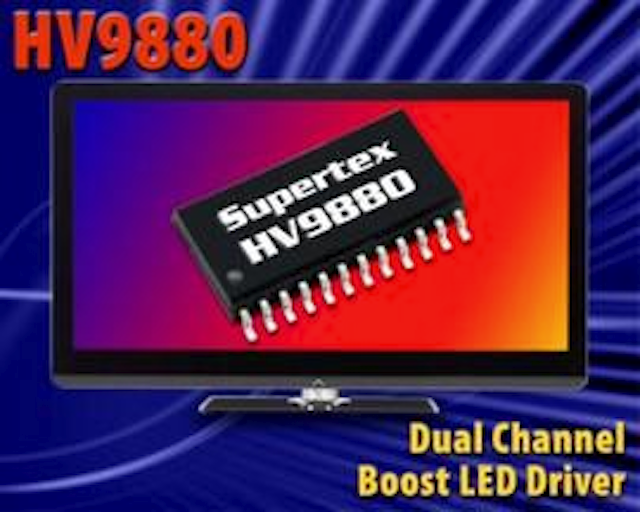 Date Announced: 29 Mar 2011
Sunnyvale, Calif. – Supertex, Inc. (Nasdaq GS: SUPX), a recognized leader in high voltage analog and mixed signal integrated circuits (ICs), today introduced HV9880, a two channel, boost LED driver with LED wire fault detection and channel-independent pulse width modulated (PWM) dimming, enabling separate LED strings to be operated at different PWM duty cycles for color mixing in LCD TV and backlighting applications.
HV9880 includes LED wiring fault detection, which protects LEDs from harmful high currents when a connecting wire accidentally gets shorted to ground during manufacturing. By incorporating this protection, the IC eliminates the need for a separate high side current sensor, thus reducing system cost and complexity. The IC also features a peak mode current control scheme that controls output current within +/-3% accuracy over all line and load conditions.
"Supertex's HV9880 allows LCD TV manufacturers to independently control dimming and color mixing in their products, resulting in better picture resolution and higher contrast ratio," states Stephen Lin, Vice President of Marketing for Supertex. "It also features wiring fault protection, meaning that no high side current sensor is needed in the circuit, thus reducing system cost and complexity."
HV9880 is available in a 24-lead SOW package (HV9880WG-G). The part is RoHS compliant. Samples are available now. Lead-time for production quantities is 4-6 weeks ARO. Pricing is US$1.41 each for the HV9880WG-G in 1K quantities.
About Supertex
Supertex, Inc. is a publicly held mixed signal semiconductor manufacturer, focused in high voltage analog and mixed signal products for use in the medical, LED lighting, display, industrial, and telecommunication industries. Supertex product, corporate and financial information is readily available at
www.supertex.com
.
Contact
Ken Vickers Marketing Communications Manager 408-222-4810
E-mail:kennethv@supertex.com