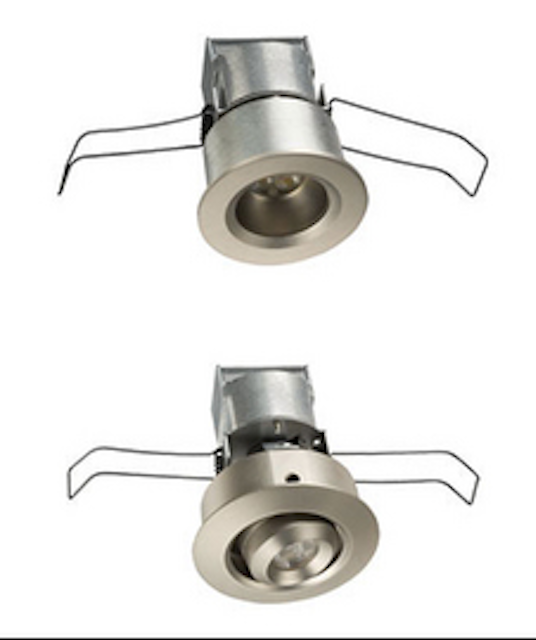 Date Announced: 03 Mar 2011
Des Plaines, Ill., -— Juno Lighting Group®, a subsidiary of Schneider Electric, and a leader in innovative commercial and residential lighting solutions, today introduced their ultra-compact, energy efficient series of Juno Mini LED Downlights and Gimbals for limited space applications. Engineered to produce a brilliant quality of white light while only requiring 5-watts input, a fraction of energy as compared to conventional 20-watt MR11 light sources, the IC-rated Juno Mini LED Downlights and Gimbals deliver precise task and accent lighting ideal for niches, bookcases, soffits, displays, elevators and other commercial and residential spaces.
Designed for easy installation, the 2 inch Mini LED Downlights and 2 3/8 inch Gimbals have cutout dimensions that correspond with common hole-saw sizes, and both fixture styles are held in place with easy-to-use "mouse-trap" springs. Additionally, the removable cover plate provides quick access to wiring compartments, and terminal blocks facilitate simple wiring with low voltage cable for one fixture, or daisy chaining multiple fixtures.
Additional features of the Juno Mini LED Downlights and Gimbals include:
• Availability of four color temperatures - 2700K, 3000K, 3500K and 4100K
• Service life of 50,000 hours at 70 percent lumen maintenance
• Three optic choices including spot (16 inch), narrow flood (24 inch) and flood (35 inch)
• Both Mini Downlights and Gimbals are offered in white and black painted finishes and satin nickel and bronze plated finishes
• Onboard LED driver operates at 5-watts input at 12-volts AC and requires a Class 2, 120V to 12V electronic or magnetic, remote transformer. Fixtures are dimmable with Juno's TL602E 60W maximum electronic transformer using Juno qualified electronic low voltage dimmers
• Mini Gimbals feature 30 degree vertical aiming and 360 degree rotation
The Juno Mini LED Downlights and Gimbals are currently available through Juno Lighting Group channel partners. For more information visit http://www.junolightinggroup.com/splash_juno-mini-led.asp.
About Schneider Electric
Schneider Electric, a global specialist in energy management, is a leader in offering high-quality, innovative commercial and residential lighting solutions and advanced system controls. Schneider Electric provides lighting fixtures offered in the product ranges of Juno®, Indy™, AccuLite™ , Aculux®, NaviLite® and DanaLite. Schneider Electric lighting and control solutions provide one of the most comprehensive energy-saving offers in the industry, combining automated and web-enabled control with occupancy-based solutions and dimming capabilities.
Contact
Alison Thompson, Text 100 for Schneider Electric 617-399-4909
E-mail:alison.thompson@text100.com
Web Site:www.junolightinggroup.com