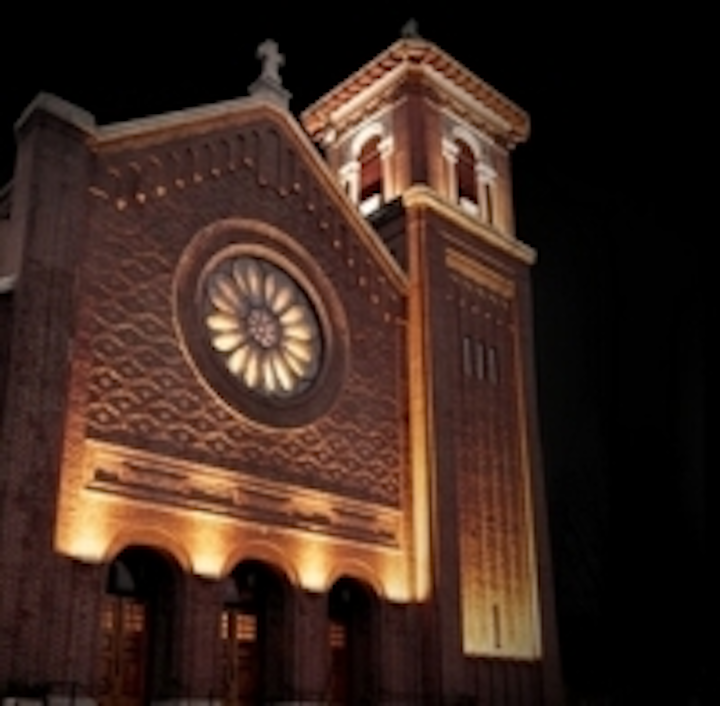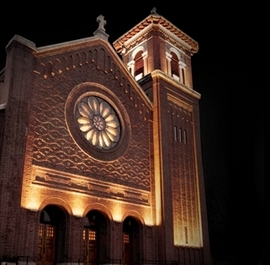 Date Announced: 09 Mar 2011
St. John the Evangelist Church has been at the center of the Winthrop community for over 100 years. In the daytime, the bell tower is visible to the whole town however, until recently, the church at night time became invisible.
As a result, the Church needed a robust exterior lighting solution that would highlight the architectural features of the building without causing any spill over effects on the neighbouring residential community.
The Lumenpulse solution included Lumenfacade (3000K) fixtures mounted on a platform at the top of the bell tower to highlight the white granite detailing. Lumenfacade (2700K) fixtures were then used at the base of the tower and between the three doorways to graze the wall 75' up with a narrow beam that highlighted the texture and detail of the brick work.
Requiring a set-back of only 4" from the wall, the Lumenfacade lighting fixtures were able to disappear into the architecture and remain discreet. The fixture's flat lens and high mounting eliminated glare as well as any residual impact to the surrounding areas.
Not only does the Lumenpulse solution respect the architectural integrity of the building, it also dramatically reduced energy consumption by using only 441 watts, which is approximately 75% less energy than traditional sources. And, by utilizing the Lumenpulse dual chamber technology, the entire lighting solution can be easily accessed and maintained thus providing the Church with the added benefit of a fully sustainable lighting solution.
The entire installation was completed in 1 day.
This lighting design was conceived Paul Marks, in collaboration with Boston Light Source.
Lumenpulse Lighting Fixtures Specified:
12 x Lumenfacade™, 12", 3000K, fixtures on the top of the bell tower, mounted on a granite platform.
8 x Lumenfacade™, 12", 2700K, fixtures mounted towards the base of the bell tower.
4 x Lumenfacade™, 24", 2700K, fixtures mounted between the doorways.
Architect:
Paul Marks, Boston
Contact
Jason Broadhurst Director of Marketing Lumenpulse Phone: 1-877-937-3003
E-mail:info@lumenpulse.com
Web Site:www.lumenpulse.com