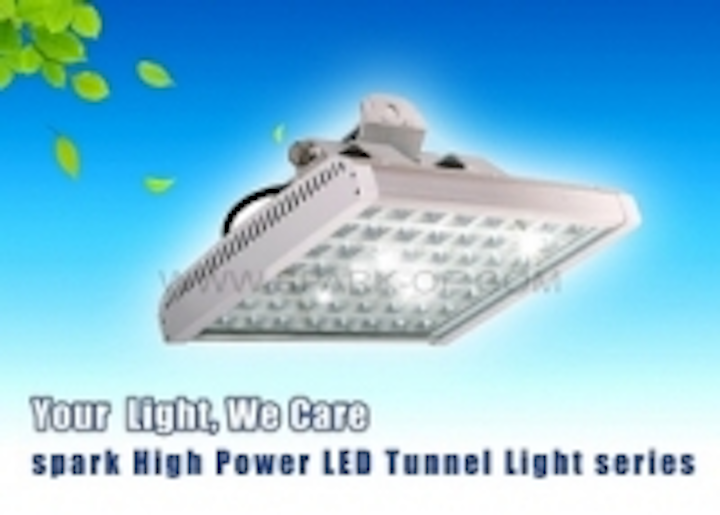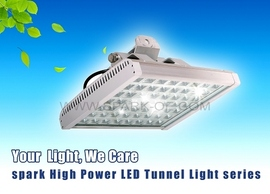 Date Announced: 03 Mar 2011
High Power LED Tunnel Light is new type of high efficient and energy saving product using High Power LED as light source. With low temperature, no UV and IR, LED Tunnel Light can be truly called Green Light and widely used.
Spark LED Tunnel Light is designed to be outstanding dustproof and waterproof by lamp body using die-casting aluminum alloy and tempered glass and core lamp using high brightness material. Spark make every effort to perfect every details including the spare parts, improving our LED Tunnel Light to be safer, more reliable, energy-saving, longer lifespan and better applicable for public areas such as square, tunnel etc.
As professional LED Tunnel Light manufacturer, all our products have been accredited with CE & RoHS certification. In addition to standard LED Tunnel Light, we also provide customized Tunnel Light Project solution for customers. We welcome you for more information!
Application of tunnel light
Tunnels, parking lots, warehouses, petrol stations etc
Features of tunnel light
*More than 70% energy saving
*Second time energy saving by light control and time-phase power control
*High quality power supply, reliable and stable, automatically reduce current against high working temperature
*Unique optical design & rectangular beam, suitable for roadway illumination
Main technology index of tunnel light
Model Number Tunnel Light SPT-140 (Square)
LED Light Source CREE/ Philips Lumileds 1W LED
Light Quantity 140 PCS x 1W
LED Luminous Efficiency 107-122 lm/W
Lamp Luminous Efficiency 90 lm/W
Lamp Total Power 160W
Power Efficiency >88%
Lamp Total luminous Flux 145,000 lm
Please feel free to contact us for one-stop exporting LED tunnel lighting solution now!
See more details at websites http://www.spark-oe.com/product/LED%20Tunnel%20Light/list.html
Contact
Alice Wu Spark Marketing Director Tel: (86 755) 8390 4366 Fax: (86 755) 8390 4766
E-mail:sales@spark-oe.com
Web Site:www.spark-oe.com