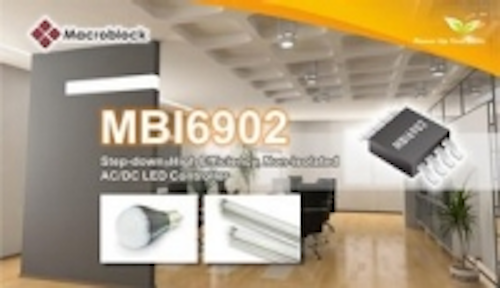 Date Announced: 14 Mar 2011
Hsinchu, Taiwan - Macroblock introduces a new non-isolated, step-down and high efficiency AC / DC LED driver, MBI6902, especially for T8 and E27 lighting applications. The MBI6902 achieves superior efficiency in high brightness LED lighting applications. For example, the efficiency is over 90% when lighting up 6-LEDs @ VAC =110V, 350mA. The MBI6902 is able to drive external MOSFET current up to 3A. In addition, the MBI6902 requires only a few external components. The high efficiency and compact solution of MBI6902 make it most applicable for T8, E27 and general illumination applications.
The MBI6902 accepts wide universal AC input from 80VAC to 265VAC and regulates the accuracy of preset output current within ±5% by switching the external MOSFET. Besides, the MBI6902 has multiple features to protect the controller from fault conditions, including under voltage lockout (UVLO), over voltage protection (OVP), over current protection (OCP), and LED open-circuit and short-circuit protection. Additionally, to ensure the system reliability, the MBI6902 is built with the thermal protection (TP) function. The MBI6902 is now available in MSOP-8L package. Samples and reference designs are now available.
Contact
Macroblock Inc.
E-mail:marketing@mblock.com.tw