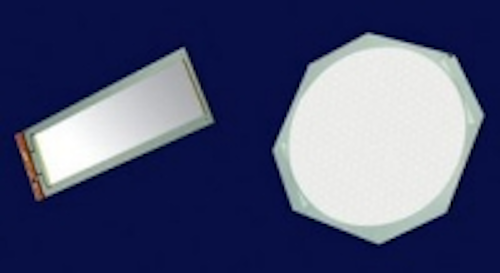 Date Announced: 01 Mar 2011
With two new Orbeos panels, OSRAM is progressing the development of OLED technology one step further towards mass application. Both panels are mirrored and warm-white – one is rectangular, the other one round. The Orbeos product family is already in series production. In this way, OSRAM meets lighting designers' desire for planning certainty. The new shapes increase the creative scope.
OLED makes lighting designers fall into raptures. The slim panels – transparent or mirrored when switched off – with their particularly soft light open up entirely new options to creative minds. At the end of 2009, OSRAM presented the first quality panel under the brand name of Orbeos. The round shape and the non-glare light reminded many people of moonlight. OSRAM has now turned Orbeos into a product family and presents two new formats: rectangular-mirrored-warm-white and round-mirrored-warm-white.
Two new formats
The new panels are 1.8 millimetres thin and thus particularly well suited for use as "embedded lights" in furniture, designer luminaires and mirrors. "Embedded light" is used to describe an OLED panel that is e.g. integrated into a mirror in such a way that – when switched off – it is impossible to detect the transition between OLED panel and mirror. The light – infinitely dimmable from 0 to 1,700 candela per square metre – is warm-white, independent of the angle from which the panels are looked at. The rectangular panel has a light-emitting surface of 132 x 48 millimetres. It contains no visible strip conductors, thus creating a seamless mirrored surface with a color rendering index of 85. The round variant is the mirrored version of the first ever Orbeos panel. Both new products can also be switched on or off without time-lag.
The Orbeos product family:
>> CDW-031 Round, diffuse, warm-white
Diameter = 79 mm. Thickness = 2.1 mm. Weight = 24 g
>> CMW-031 Round, mirrored, warm-white
Diameter = 79 mm. Thickness = 1.8 mm. Weight = 23 g
(photo right)
>> RMW-046 Rectangular, mirrored, warm-white
Size = 132 x 48 mm. Thickness = 1.8 mm. Weight = 22 g
(photo left)
Reliable data for mass application
In OLED technology, OSRAM has deliberately opted for series production. Even though the company will continue to develop further prototypes in order to provide designers with the greatest possible creative freedom, there was, however, a need to take the next step in parallel, commented Karsten Heuser, General Manager OLED at OSRAM: "For mass application, in addition to fascinating technology, luminaire and lighting designers require reliability – and this is exactly what the Orbeos product family offers."
OLED: An OSRAM success story
Expanding Orbeos into a product family is a further chapter in the OLED success story at OSRAM. As early as 2008, the "Early Future" table luminaire by lighting designer Ingo Maurer using OSRAM OLED light tiles illustrated the options that OLED offers in lighting design. In the autumn of 2009, OSRAM launched Orbeos on the market as a round OLED panel, followed by PirOLED, the first commercial OSRAM OLED luminaire, which has impressed with its unusual aesthetics since November 2010. With a pilot production line in Regensburg where all Orbeos panels will be manufactured from 2011, OSRAM progresses the series production of OLED.
About OSRAM
OSRAM (Munich, Germany) is part of the Industry Sector of Siemens and one of the two leading lighting manufacturers in the world. Sales for OSRAM worldwide totalled to €4.7 billion in fiscal year 2010, 88 percent of which came from outside Germany. OSRAM is a high-tech company in the lighting industry. Over 66 percent of sales come from energy-efficient products. This global player employs around 40,000 people worldwide, supplies customers in some 150 countries and has 46 production facilities in 17 countries (September 30).
Contact
OSRAM Christian Bölling Tel: +49-89-6213-2597 Fax: +49-89-6213-3457
E-mail:c.boelling@osram.com
Web Site:www.osram.com