Fraen Corporation announces the release of their new F3S street-light optics
Feb 7th, 2013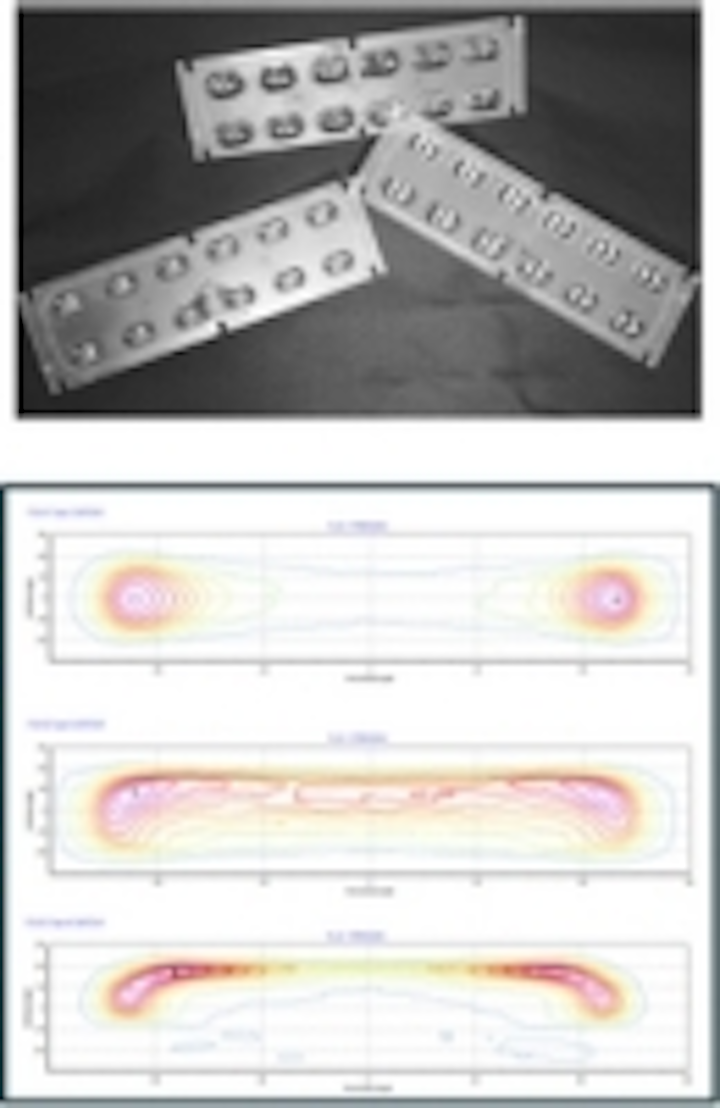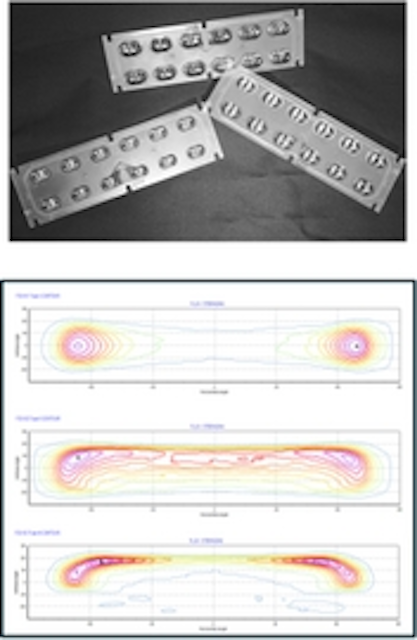 Date Announced: 07 Feb 2013
Reading, MA - Fraen Corporation's Optics Division announced today the release of their new line of F3S streetlight optics. Designed for maximum flexibility, the F3S streetlight series is offered in IESNA Type I, Type II and Type III lighting distributions and is compatible with a number of LEDs including Cree XTE, XPE, XPE2, XPG, XPG2; Philips Lumileds LUXEON R, Rebel, Rebel ES; Seoul Z5P, Z5M; and Osram Oslon SSL 150 and Oslon Square.
Built around a common 2 x 6, one inch on center lens layout, the F3S series offers a highly flexible and scalable optical solution for a wide range of streetlighting applications. Designed for ease of assembly, the F3S streetlight panel features locating pins for alignment, slots for screw attachment and a gasket groove to aid in designing for IP65 certification.
Constructed of optical grade, UV stabilized polycarbonate; the F3S lens panel delivers excellent weather and impact resistance in a UL94 V2 rated material. All F3S streetlight optics are REACH and RoHS compliant.
About Fraen Corporation
Fraen Optics, a Division of Fraen Corporation, specializes in the design, development and manufacture of optics for high-powered LED's. Fraen offers a wide range of standard products for all major LED manufacturers as well as custom-optic design services. Fraen
Corporation's Divisions include its Custom Manufacturing Division, which specializes inlighted-plastic parts and complex stampings; and Fraen Machining Corporation, which manufactures precision-turned metal components.
Product Information
To order parts or to request samples of Fraen's new F3S technology, please contact Fraen Optics at 781-858-6108 or by email at streetlightoptics@fraen.com
Full supporting documentation (datasheets, photometric files, mechanical CAD files, REACH/RoHS certification) is available on our website (www.FRAENOMG.com) or by contacting Fraen Optics at Applications@fraen.com.
Contact
Fraen Optics 781-858-6108
E-mail:streetlightoptics@fraen.com
Web Site:www.FRAENOMG.com