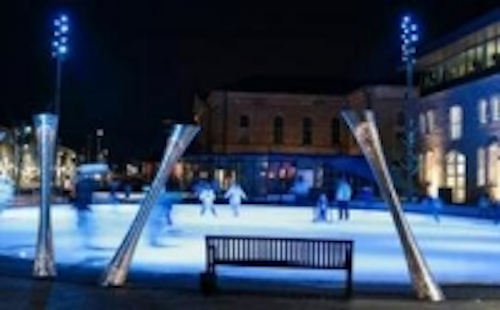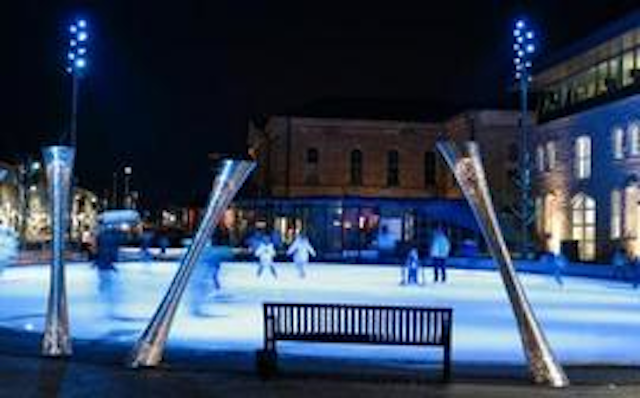 Date Announced: 01 Feb 2013
The city of Guelph, near Toronto, has recently revamped its Market Square. The central feature is a fountain that turns into a skating rink during the winter. Lumenpulse's Lumenbeam Large Color Changing fixtures mounted on Technilum poles light up the rink at night. The City of Guelph hired landscape architecture firm Janet Rosenberg & Studio to revitalize the historic quarter, and lighting designer Gilles Arpin from Éclairage Public was brought on board to illuminate the area.
Since opening in February 2012, the Market Square skating rink has become a popular spot in Guelph. There are corporate sponsored events revolving around the rink for the 2013 winter season. "That kind of facility didn't exist before," says Arpin, "for a long time, it was an empty lot. I think they were surprised by the amount of people using the skating rink during winter."
"These kinds of projects are incredibly gratifying," says François-Xavier Souvay, President and CEO of Lumenpulse. "The rink is located in the historic part of Guelph and it's surrounded by local businesses. We're so proud to be a part of what connects Guelph residents to their city."
The Lumenbeam luminaires emit saturated RGB tones that create patterns on the ice. The color changes can also be synched to the music. "I've heard that what people like the most is the rink's lighting," Arpin says.
About Lumenpulse Inc.
Founded in 2006, Lumenpulse develops and manufactures high performance, sustainable architectural LED-based fixtures and solutions for commercial, institutional and urban environments. Lumenpulse is a leader in the LED lighting market and has earned many awards for its indoor and outdoor applications, including several Product Innovation Awards (PIA), two Next Generation Luminaires Design awards, a Red Dot Design Award and a Lightfair Innovation Award. It was also recognized as one of Profit Hot 50's Top New Growth Companies. Lumenpulse has offices worldwide with corporate headquarters in Montreal, Canada, US headquarters and Global Technology Development Center in Boston, Massachusetts, and EMEA headquarters in London, UK.
Contact
For information, contact Olivia Collette Public Relations Manager, Lumenpulse (514) 937-3003
E-mail:ocollette@lumenpulse.com
Web Site:www.lumenpulse.com/en/project/60/guelph-market-square