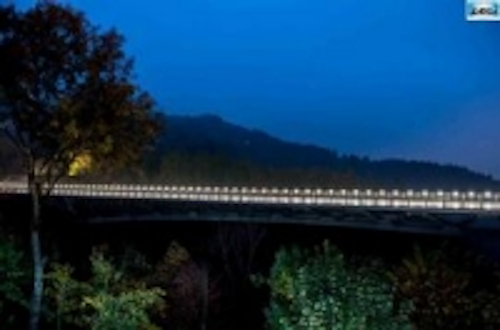 Date Announced: 05 Feb 2013
Opened last November, Saint-Gervais Bridge creates a bypass to
relieve downtown traffic congestion. At over 240 meters long, this
structure is at the heart of an exceptional natural landscape, offering a panoramic view of Mont Blanc. With a requirement for functional lighting, the Municipality was looking for a solution that would be discreet both day and night, and evenly illuminate the entire 12 metre wide deck (both roadway and footpath).
To meet this requirement, LEC built custom LED spotlights into the
guardrail at a height of 140cm above the deck. This innovative solution meets all the aesthetic, functional and regulatory lighting requirements for the bridge.
Uniform lighting for traffic, right in the guardrail!
To keep the design as discreet as possible, 200 spotlights were inserted every 2.50 m in the safety barrier's top rails, just 1.40 m above the deck.
These LEDs provide all the functional lighting needed on the bridge.
Determined to avoid overhead lighting, the Municipality has opted for LEC's solution which is more discreet by day and creates less "light-pollution" by night...
LEC's technical prowess was to create uniform, even lighting for the 11.90 meter wide roadway and footpaths, provided by light fittings only 1.40 m above the path! To achieve this, LEC's engineers specially designed the spotlight lenses to suit the structure's geometry.
The bridge lighting complies with contact temperature requirements for
handrails (< 40°C) and with ME4b class regulations*. The requirements of this class are satisfied by 15 lux illumination for motorised vehicle zones (with 0.88 uniformity) and an average 11 lux for pedestrian and cycle paths. The specifications include the type of road surface.
* The ME lighting classes in NF EN 13201 concern the needs of drivers of motorised vehicles on medium- and high-speed roads.
Combining power and subtlety
LEDs have recently become much more efficient and allow high
performance lighting. With excellent size-to-power ratios, LED spotlights can now seamlessly be integrated, so as to be invisible by day on Saint-Gervais bridge! The accuracy of the technology is also a recognised feature, guaranteeing uniform dazzle-free lighting. Lastly, the long lifetime of LEDs (over 100,000 hours) considerably reduces maintenance.
Spotlights adaptable to handrails:
a solution that can be rolled out to suit multiple projects
Terraces, stairs, viewing points, paths... LEC has developed a range
of spotlights that can be adapted to any project that incorporates a
handrail, guardrail or safety barrier. An ideal solution for functional outdoor lighting, both effective by night and invisible by day. These spotlights also comply with public spaces regulations, are vandal-proof and resistant to vibrations and humidity (IP67).
Depending on the project, LEC is also able to develop specially machined profiles to accommodate spotlights or adapt its spotlight fixing systems to existing supports.
Project context
Construction work on the bridge began in April 2010, although the project itself was first launched in 1935 by locals and their elected officials!
The objective was to tackle the particular geographic constraints of
the town... As it happens, Saint-Gervais-les-Bains has a stream flowing through a gorge called "Le Bonnant". Up until now, the road took a long detour, crossing Le Bonnant at the Diable Bridge. But now, both riverbanks are connected, creating a real urban community and road traffic has been diverted from the town centre, reducing nuisance for its residents.
To enhance its functional purpose and boost the tourist appeal of this
bridge, sports and cultural features have been incorporated into the
abutments and arches of the viaduct (a climbing wall, bungee jumping,
exhibition centre).
THE PROJECT TEAM
The Bridge
Contracting Authority:
Haute-Savoie General Council
Architect:
Strates
General Contractor:
Bouygues Construction - EGIS
Technical Design:
JMI, Seralp, Paysage Plus
Lighting
Contracting Authority:
SYANE (Syndicat des énergies et
de l'aménagement numérique)
Municipality of Saint-Gervais
General Contractor:
BE INFRAROUTE
Contractor: GRAMARI
LED Spotlights: LEC Lyon
Photo: Pascal Tournaire - LEC
Contact
Heidi Pugniet-Boeck LEC Lyon
E-mail:hpb@lec.fr
Web Site:www.lec.fr