Xenerqi creates 25W LED driver for Cree XLamp XM-L wide area light demo kit
Feb 12th, 2013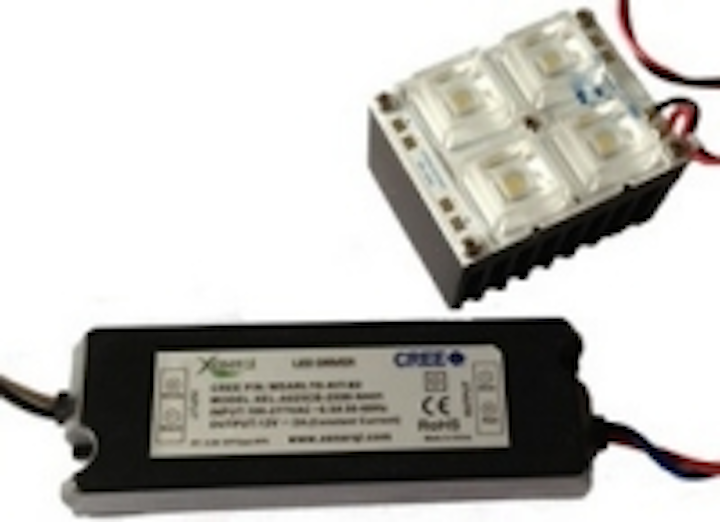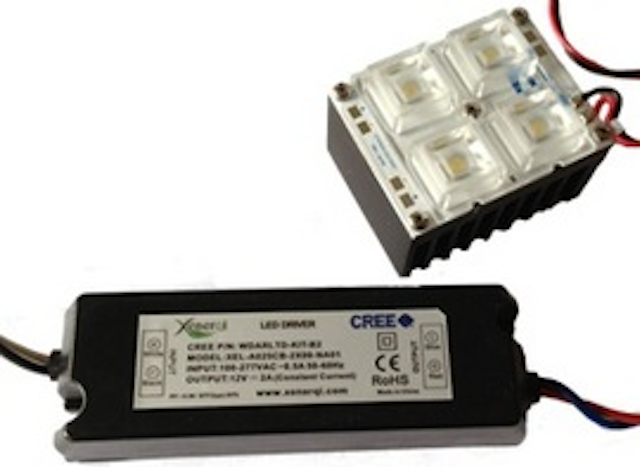 Date Announced: 12 Feb 2013
The Xenerqi XEL-A025CB-2X00-NA01 has been designed and tested to drive the LEDs of the CREE XLAMP XM-L WIDE AREA LIGHT DEMO KIT at a drive current that helps demostrate the true posibilities behind the XLamp XM-L White LED, which is the industry's highest flux and efficacy single-die component.
The XEL-A025CB Family of products meet or exceed the toughest regulatory requirements and can be deployed anywhere in the world. It's high temperature and enviromental rating allow this family to be placed in the harshest environments while providing the peace of mind that the product is truly designed to meet the industry's best warranty requirements.
Xenerqi Driver Configuration for CREE XLAMP XM-L WIDE AREA LIGHT DEMO KIT
Input: 100-277V
Output: Current 2A (Constant Current Mode)
Output Voltage: 12V (Nominal)
Typical Efficiency: 85%
PFC: >0.9
Tc: 90C
Regardless of the number of LEDs used in the final application, Xenerqi either has a solution available today or can quickly customize a solution based on the application needs. Xenerqi's commitment is to take the difficulties normally associated with picking an LED driver and removing them by offering the perfect driver for each application, deliverying true painless customized driver solutions for its customers worldwide.
For further information on this part or any other drivers or for help in selecting the right LED driver family for an application, please visit our website (www.xenerqi.com) or contact the Xenerqi sales team (Sales@Xenerqi.com).
Contact
Media Department Xenerqi Ltd Hong Kong: +(852) 3050-9292 Singapore: +(65) 6494-8832 US: +1 (704) 746-9246 UK: +(44) 207-855-4003
E-mail:media@xenerqi.com
Web Site:www.xenerqi.com