GLT introduces new LED-based ring light for custom lighting applications
Feb 5th, 2013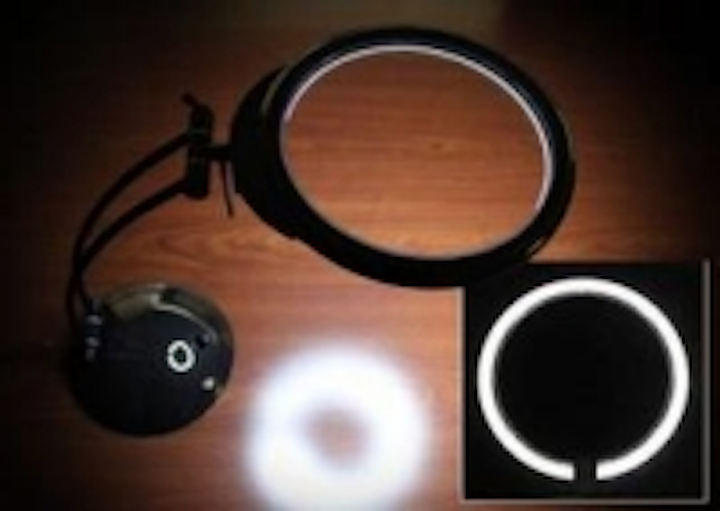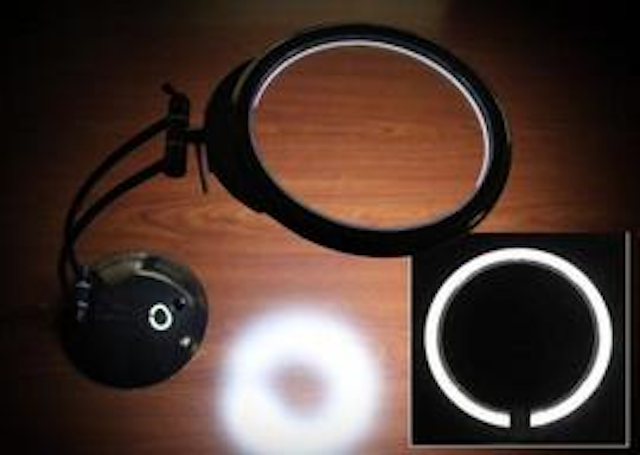 Date Announced: 05 Feb 2013
Brecksville, OH, February 5, 2013 – Global Lighting Technologies (GLT), the world leader in edge-lit, LED-based light guides for general illumination, has introduced a new
LED-based ring light that can be integrated into a wide variety of products from desk lamps to vanity mirrors to automotive interior lighting such as cup holders and clocks.
"The applications are limited only by the imagination of the designer," said Brett Shriver, GLT's Vice President of Sales & Marketing.
The optical portion of ring light is a two-piece design. An optical light guide incorporating two LEDs aligned on the input edge of the product containing custom designed optical extraction features evenly distributes the light rays around the ring. An injection molded diffuser plate containing a custom array of optical features is used to create the extremely uniform visual light distribution and to even out the specular nature of the light extraction features within the molded light guide.
GLT works with customers to seamlessly integrate the ring light into their custom product, providing full engineering and prototyping services. With 4 manufacturing facilities in Taiwan and China, GLT can build customers' products in even the highest volumes.
Pricing varies according to application, customer design requirements, size, and quantity needed. Please contact GLT for details.
For more information, contact Global Lighting Technologies (GLT), Inc., 55 Andrews Circle, Brecksville, OH 44141. Tel: 440-922-4584; Toll-Free: 866-922-4584; Fax: 440-922-4585. E-mail: sales@glthome.com. Web: www.glthome.com.
About Global Lighting Technologies:
Global Lighting Technologies (GLT), Inc. was founded in 2000 to develop LED-based edge lighting technology for the latest generation of flat panel displays. GLT offers the world's most efficient LED-based edge lighting technology as well as advanced light extraction technologies and improved manufacturing processes to provide backlighting packages for LCDs, display graphics and general illumination applications that are thinner than ever for OEMs who need to meet increasing consumer demand for smaller, slimmer size with outstanding performance and more efficient light extraction. With four manufacturing facilities in the Far East, GLT is poised to deliver a better backlight at lower cost with faster turnaround.
Contact
Global Lighting Technologies (GLT), Inc., 55 Andrews Circle, Brecksville, OH 44141. Tel: 440-922-4584; Toll-Free: 866-922-4584; Fax: 440-922-4585
E-mail:sales@glthome.com
Web Site:www.glthome.com