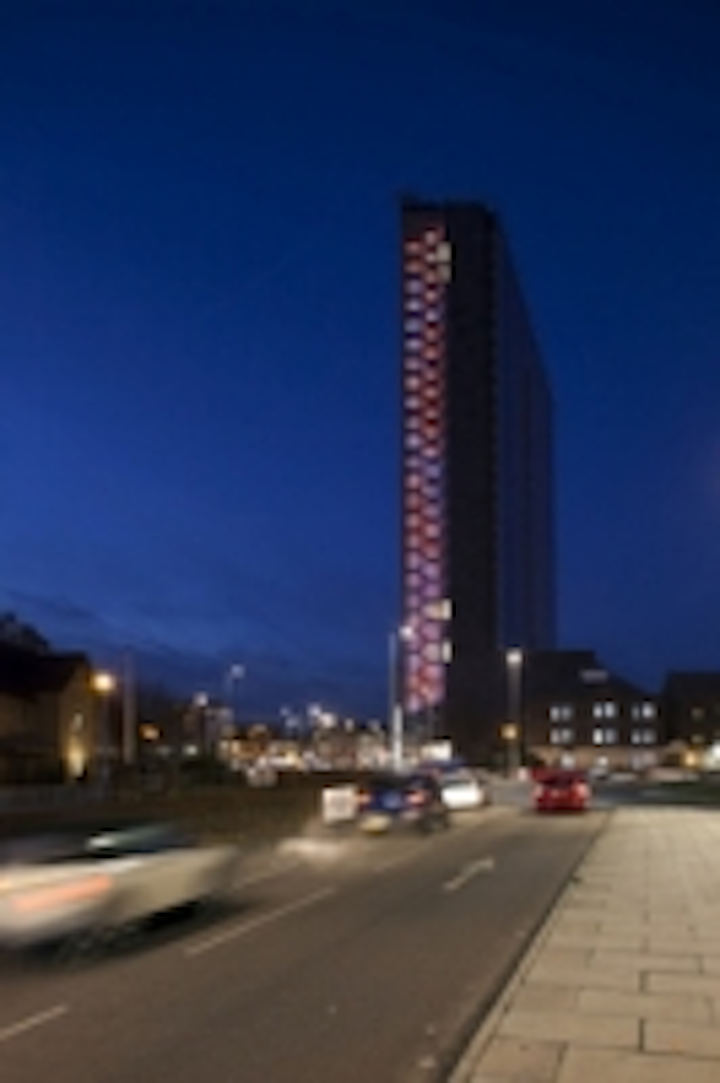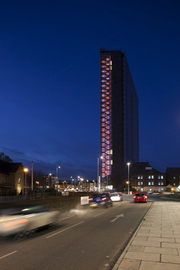 Date Announced: 12 Feb 2013
London - The Essex skyline has welcomed a new landmark in the form of Pioneer Point - two residential towers illuminating Ilford with stunning LED media facades – a collaborative creation from companies including New York's Global Design Strategies (GDS) and UK specialist lighting solutions provider, Architainment Lighting Ltd.
Pioneer Point developer, Empire Property Group International (EPGI) wanted to create a bold and vibrant lighting scheme for the pair of 370 feet towers and so approached CEO of GDS, Michael Kirchmann, to design something special using the highest quality lighting and controls supplied by Architainment Lighting.
The LED specialist provided Philips Color Kinetics iColor Flex LMX, a flexible strand of high-intensity, full-colour LED nodes, designed to illuminate without the constraints of fixture size or shape. The iColor Flex LMX was fitted within the interior of each tower's emergency staircase, creating a pixelated pattern through which content can run seamlessly. The result was a low resolution digital light wall, clearly visible through the towers' 17,200 square metres of mainly glass facades.
Each iColor Flex LMX strand consists of 50 individually addressable LED nodes with one foot spacing. For Pioneer Point, Architainment Lighting delivered a total of 5,753 nodes, each encased in a frosted housing, and installed by London and Regent Construction Ltd. Architainment Lighting's skilled technical team commissioned and programmed the lighting using a Pharos LPC 40 with a custom web page which was installed in the site's management suite by Pharos Controls. The system is connected to an Ethernet network throughout the building. It is also possible to adjust the lighting remotely thanks to a 'Pioneer Point' iPhone app developed by Pharos Controls specifically for the installation. This app facilitates customer control of the lighting over WiFi, with the touch of a button. Pioneer Point will be illuminated from sunset to midnight daily and will display a range of visual effects varying in colour, direction, speed and shape, all of which were custom choreographed by GDS. Both digital light walls can also display effects for certain keys days in the annual calendar, such as Christmas, New Year and Valentine's Day programmed to run automatically on the LPC X.
Commenting on the project's success GDS CEO, Michael Kirchmann, said: "Working with Architainment throughout this project has been tremendously rewarding and helpful. They have gone above and beyond anything we could have hoped for and thanks to them, and everyone else involved, the project has been a great success and exceeded all expectations. Through a collaborative effort we have produced a piece of art of which Ilford's residents can be proud."
Full project credits:
Client:
EPGI
Concept:
Global Design Strategies (GDS)
BakerIE
System Design:
Global Design Strategies (GDS)
BakerIE
Architainment Lighting Ltd
Pharos Architectural Controls
System Delivery:
Architainment Lighting Ltd
London & Regent Construction Limited
Project Managers:
Gateway Project Services
Local Council and Planning:
Redbridge Council
Funding:
Helaba Bank
Lighting used:
Philips Color Kinetics
Controls:
Pharos Architectural Controls
Architainment Lighting Ltd.
Mobile Application:
Pharos Architectural Controls
Global Design Strategies (GDS)
Architainment Lighting Ltd
Content:
Global Design Strategies (GDS)
Pharos Architectural Controls
Architainment Lighting Ltd
Blue Pony
Photography and Videography:
Redshift Photography and Architainment Lighting Ltd.
Contact
Holly Winman PR and Marketing Coordinator, Architainment Lighting Ltd. T: 01494 471340
E-mail:holly.winman@architainment.co.uk
Web Site:www.architainment.co.uk