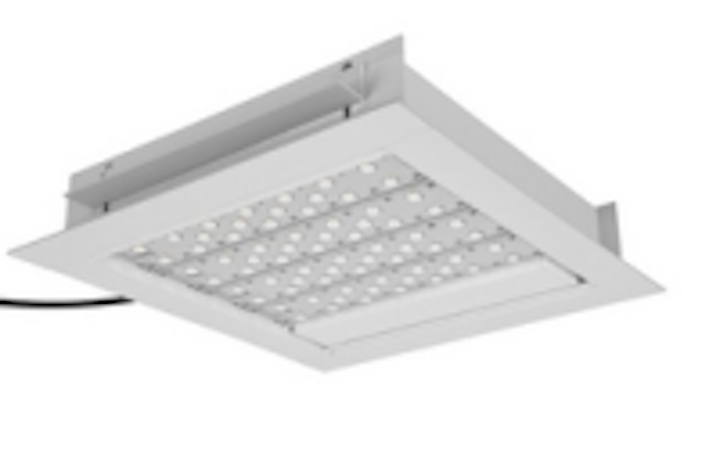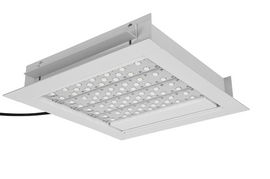 Date Announced: 29 May 2013
Ambergreat has announced the Libra Series, Model AG-C090, LED canopy light for applications such as gas stations and similar uses including bank drive through lanes. The new model delivers flux output of 156241 lm and CRI above 90. The efficacy is 122 lm/W and the products is rated for 50,000 hours of life.
Other features of the new series include:
1. Patented Innovative modular mechanical structure. The interface modules for LED lights source modules and LED power supply module(s) are standardized, which enable flexible modules combination, easy installation and maintenance.
2: Optimized cooling system, Independent cooling system for each LED light source module or LED power supply module(s) which guarantees perfect and stable performance of the lightings.
3: Photometric options: 6+ light distribution types at option meet almost all the needs from workshops, warehouses, stadium and petroleum filling stations etc.
4: Top of the line, American Made, Cree LED Chips
5: UL rated Philips driver(s) in IP66 separate compartment to isolate heat ( No Ballasts Required)
6: German WAGO wire connectors and MOLEX terminal block.
7: Five year warranty standard.
8: IP67 and explore proof.
With operating margins under pressure, companies are looking for ways to save energy. LED products like Ambergreat Libra series LED canopy light are a perfect solution. Designed for petrol-station canopies and low-bay applications, these ultra-efficient retrofit fixtures offer outstanding light quality, effective thermal management , and a very long lifespan, reduced maintenance, replacement and energy cost means a short payback period, making Ambergreat LED canopy light a shining example of how businesses can save money by opting for green products. The optical concept also improves the spacing -to- height ratio. Light output can easily be adjusted and there is a choice of more than three different beams. Slim and pre-cabled , Ambergreat Libra canopy light is easy to install, also retrofit into existing installations, while its robust pure anodized housing, reliable LED sources and Philips driver mean zero-maintenance.
Contact
Bran Room1106, No.9 Yi Lan Road, KL Finance Building, Siming District, Xiamen, Fujian, China. Tel : (86 592) 5973 974 Fax: (86 592) 5986 242
E-mail:bran@ambergreat.com
Web Site:www.ambergreat.com