LED Group announces 10W 600-lm LED spot light module series
May 30th, 2013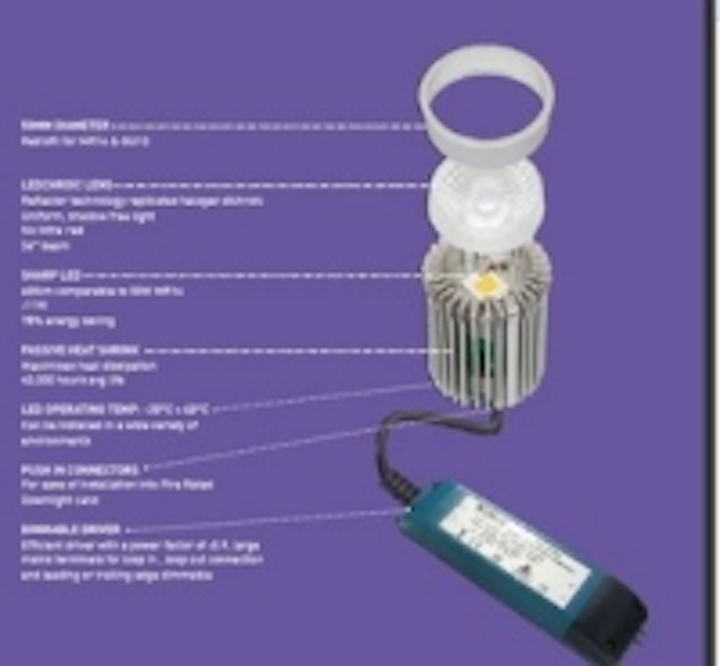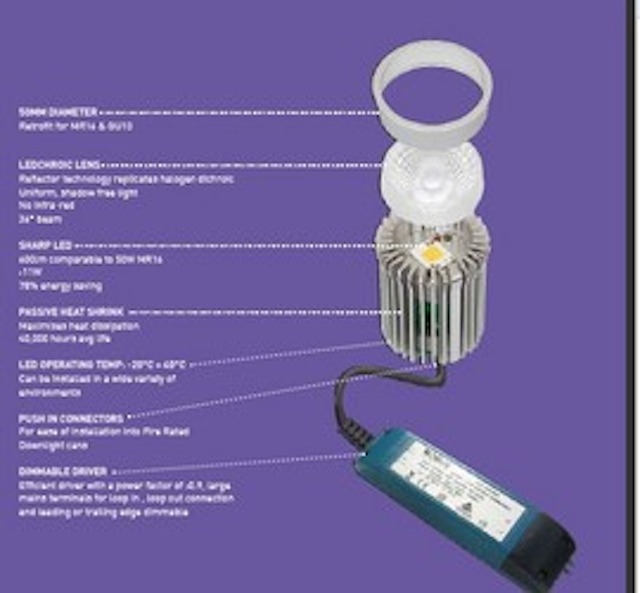 Date Announced: 30 May 2013
Led Group, based in Foshan China,a global specialist in energy management and leader in innovative commercial and residential lighting solutions, today introduced Generation new generation of LED spot light module Series for residential and commercial applications.
Featuring ultra-efficient, high performance illumination, sophisticated optics, and a light-weight and low-profile housing, LED group LED spot light provide greater energy savings and application versatility for architects, specifiers, electrical contractors, owners, and retailers, in a range of both new construction or remodel applications.
Features
• An LED solution that replicates the look and feel of halogen
dichroic
• Low glare, shadow free light
• No infra-red
• Retrofit for MR16; superb solution for hospitality, retail,
office and home environments
• Part L1 and L2 compliant
• Lasts 20 times longer than halogen
• Better light output than 50W MR16 and over 78% energy
savings
• Dimmable with leading and trailing adge dimmers
Material / Finish
Body: Aluminum alloy with silver finish
Installation / Mounting
Quick recessed installation
Standards
Designed and manufactured to comply with international
standard IEC60598
IP20
R580SDDLM
R580SDDLM-CW R580SDDLM-WW
Diameter: 50mm 50mm
Depth: 82mm 82mm
Watts: 10W 10 W
Lumens: 600lm 580lm
CCT: 4000K 3000K
Beam angle: 36°or 60° 36°or 60°
Additional features include:
Lighter fixture housing: Fixture with external driver weight has been reduced 270g , making installation even easier.
Updated reflector/lens design: features high-transmission diffusing lens, which combine to create an efficient, aesthetically pleasing optic system that provides optimal light distribution while minimizing brightness and masking the LED source. Reduced profile optic assembly with smooth face lens and re-designed twist and lock detail improves the installation experience.
The LED Group 4 luminaires have been designed to meet the stringent requirements of the TUV,
RCM, ROSH, EUP
About LED Group
LED Group a leading manufacturer of quality lighting products in China. On long term cooperation with world renowned companies like Kingfisher, Sylvania and ect, we accumulated powerful R & D strengths in converting product concept into business benefits as professional service experience to worldwide customers. Therefore, it establishes its global presence and a good reputation in both domestic and overseas market.
Contact
LED HongKong Ltd Factory name : Lighting & Electrical Distribution Group Ltd. Factory Address: No.31 Guanhe Road , Heshun Town ,Nanhai , Foshan City , GuangDong Province Davis Tel:0086-757 8512 2415 Fax:0086-757 8562 5014 Mobile :86-13790144688 Email:davis@led-group.com Website:www.led-group.com
E-mail:davis@led-group.com
Web Site:www.led-group.com