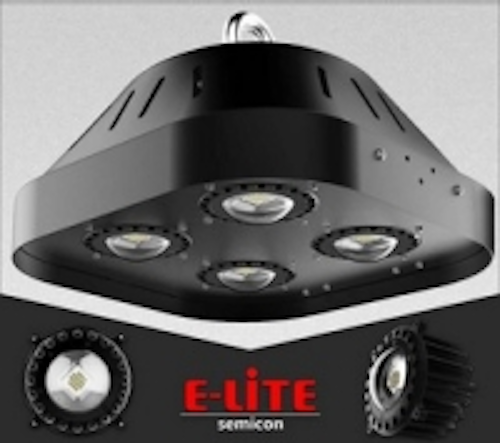 Date Announced: 13 May 2013
Chengdu, China –- E-Lite Semicon Co., Ltd., a leading innovator in high performance LED lighting technology for commercial and industrial applications, today announced the launch of its complete range of Smart™ series LED High Bay.
Having been China's top LED high bay manufacturer and supplier for 3 years, E-Lite continues to improve the product diligently, the Smart™ series high bay fixture represents a new height of China LED light R&D work. This brand new range of product features nearly everything the market may wish to have.
• High performance LED light engine with Cree XT-E LED
delivering 100 lumen per watt;
• Up to 450W as a direct replacement of 1500 HID
• Patented thermal management allows -30°C to 60°C ambient working temperature;
• Easiest installation and maintenance experiences guaranteed
- Easiest one-man operation
- Hinged LED engine holder
- Quick connector between light engine and driver
• IP65, IP67 upgrade option
• 5 available mounting options
• 5 years warranty, up to 50,000 hours long life
• Dimmability and intelligent control available upon request
• Certification pending: UL wet location, CE, DesignLights Consortium, Lighting Facts
About E-Lite Semicon Inc.
E-Lite is a China-based solid-state lighting company specializing in high quality, ultra-bright LED lighting product for commercial and industrial applications. As a leading innovator in high performance LED lighting technology, the company has extensive technical expertise in optical design, thermal management, materials compatibility and automated manufacturing processes.
E-Lite is currently looking for regional distributors worldwide.
Contact
Lynn Yao (Ms.) Director, International Sales & Marketing E-Lite Semicon Inc./E-Lite OptoTech Co., Ltd lynn.yao@elite-opto.com; sales@elitesemicon.com Cell: +86 186 8135 4937 Web Site: www. elitesemicon.com, www.elite-opto.com
E-mail:lynn.yao@elite-opto.com; sales@elitesemicon.com
Web Site:www. elitesemicon.com