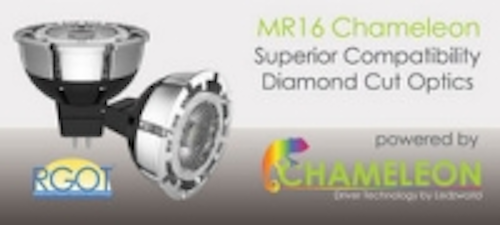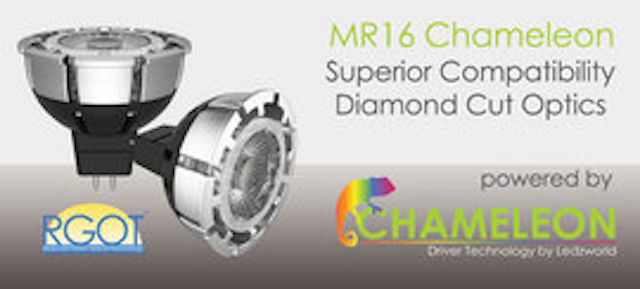 Date Announced: 02 Apr 2013
Penang, March 29, 2013 ---- Ledzworld Technology, an innovative R&D and manufacturing company of high-end LED retro-fit lamps for professional users, further innovates its Chameleon powered MR16 GU5.3 spotlight with the latest in optical technology.
These intelligent drivers create the world's first MR16 range that is truly compatible. Now coupled with Reduced Glare Optical Technology, the Chameleon lamp will have enhanced performance.
The biggest challenge for manufacturers of retrofit LED lamps is the compatibility with thousands of existing combinations of dimmers and transformers.
The Chameleon driver of Ledzworld is a technological break-through. Its arrival will change the industry standard.
The Chameleon driver adjusts itself to its environment by first detecting the transformer type, it then analyses its wave-form and then adjusts itself to make a perfect electrical fit with that particular transformer.
Chameleon drivers make Ledzworld retrofit lamps truly "plug and play" devices that can be used in most of the possible combinations of the commonly used drivers and dimmers.
Chameleon drivers will create lamps that are hassle free and true halogen replacements.
These intelligent MR16 lamps will come in a true retrofit sized 7W, output 425 Lumen – 3000K and in 2 standard beam angles (25D and 40D) Additional beam angles are optional.
The lamps work well on a large variety of magnetic (halogen) transformers in combination with most commonly used leading edge dimmers as well as with a large variety of electronic transformers in combination with most commonly used electronic dimmers.
About Ledzworld;
Ledzworld Technology is an innovative Malaysian based (Dutch owned) Technology company that continuously develops and integrates the latest available technologies into its complete LED-retrofit product range. By applying the last technology generations, Ledzworld's products continue to out-perform the products of its competitors including those of all A-brands.
Ledzworld integrates new technologies faster than its competitors and has become a reputable OEM/ODM supplier of a growing number of large global brands in the lighting -industry. Ledzworld strives to be the quality technology provider behind the largest brands in the lighting industry who are increasingly facing difficulties to keep up with the fast pace of the LED retrofit industry.
Ledzworld received the LFI innovation award 2010 during the LFI lighting fair in Las Vegas in the "general lighting category"
Contact
Ledzworld Technology Sdn. Bhd. No. 63, 3rd Floor, Pesara Kampung Jawa, 11900, Bayan Lepas, Penang, Malaysia. Phone: (+60) 4 6300 800 Fax: (+60) 4 6300 808 Email: info@ledzworld.com Ledzworld Europe BV High Tech Campus 41 5656AE Eindhoven The Netherlands Phone: (+31) 4 0800 2290 Email: Rob.Honneff@ledzworld.com Ledzworld USA 13 Elizabeth West Court, Marlton, NJ 08053 USA Phone: (+1) 856 278 2544 Email: steve.cooch@ledzworld.com
E-mail:info@ledzworld.com
Web Site:www.ledzworld.com