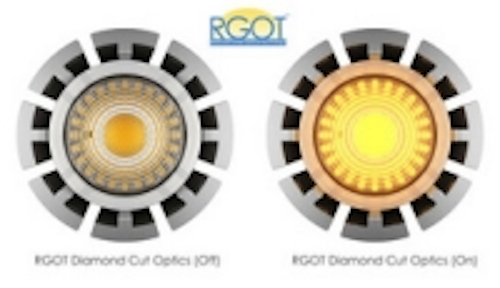 Date Announced: 08 Apr 2013
Penang, April 8, 2013 – Another innovative lamp from Ledzworld combines the ultra-dimmable capabilities of the perfect fit GU10 with the latest Reduced Glare Optical Technology (RGOT). This newly launched lamp is the most successful lamp ever for Ledzworld.
Not only does the lamp emit 50% more lumen than the perfect fit GU10 lamps of the benchmark competition, the lamp features a number of proprietary Ledzworld technologies that make it so unique.
The RGOT single focus diamond optics give these lamps the highly desired halogen touch and feel with a perfect beam control and minimized glare.
The UTL dimming function is another breakthrough proprietary technology engineered- and patented by Ledzworld. The highly sophisticated driver works flawlessly in combination with both trailing- and leading edge dimmers. (Universal Leading & Trailing Edge Dimming)
This makes the lamp suitable for combinations with most commonly used control systems. Most mains voltage LED lamps show better behaviour on either leading- or trailing edge dimmers.
The lamps outperform even the substantially longer Par16 lamps offered by most competitors making them suitable for most mains voltage halogen fixtures.
Samples of the lamps as well as impressive compatibility lists with a large variety of dimming systems are available upon request
About Ledzworld;
Ledzworld Technology is an innovative Malaysian based (Dutch owned) Technology company that continuously develops and integrates the latest available technologies into its complete LED-retrofit product range. By applying the last technology generations, Ledzworld's products continue to out-perform the products of its competitors including those of all A-brands.
Ledzworld integrates new technologies faster than its competitors and has become a reputable OEM/ODM supplier of a growing number of large global brands in the lighting -industry. Ledzworld strives to be the quality technology provider behind the largest brands in the lighting industry who are increasingly facing difficulties to keep up with the fast pace of the LED retrofit industry.
Ledzworld received the LFI innovation award 2010 during the LFI lighting fair in Las Vegas in the "general lighting category"
Contact
Ledzworld Technology Sdn. Bhd. No. 63, 3rd Floor, Pesara Kampung Jawa, 11900, Bayan Lepas, Penang, Malaysia. Phone: (+60) 4 6300 800 Fax: (+60) 4 6300 808 Email: info@ledzworld.com Ledzworld Europe BV High Tech Campus 41 5656AE Eindhoven The Netherlands Phone: (+31) 4 0800 2290 Email: Rob.Honneff@ledzworld.com Ledzworld USA 13 Elizabeth West Court, Marlton, NJ 08053 USA Phone: (+1) 856 278 2544 Email: steve.cooch@ledzworld.com
E-mail:info@ledzworld.com
Web Site:www.ledzworld.com