Daktronics to install video display system for newly-constructed Sanford Sports Complex
Apr 8th, 2013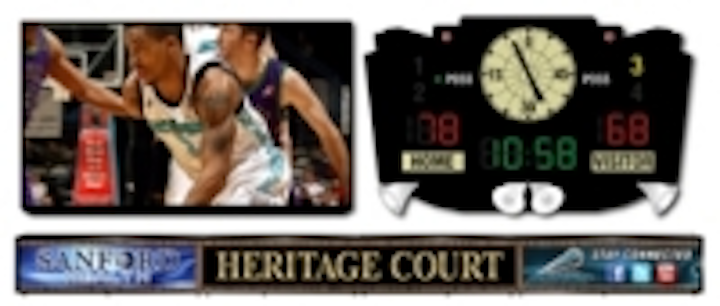 Date Announced: 08 Apr 2013
BROOKINGS, S.D. – Apr. 8, 2013 – When the Pentagon, one of the buildings included in the newly constructed Sanford Sports Complex in Sioux Falls, S.D., opens its doors this fall, visitors will see a comprehensive LED video display system designed, manufactured and installed by Daktronics (Nasdaq – DAKT) of Brookings, S.D.
This system includes the following displays for Heritage Court: two endwall video displays, two court-side digital scorer's tables as well as two vintage wood tables, a vintage, custom fixed-digit centerhung scoreboard and two auxiliary fixed-digit scoreboards. Daktronics will also be providing scoreboards and shot clocks for eight auxiliary courts that surround Heritage Court.
"While the Pentagon will have the amenities of any contemporary arena, we've paid great attention to details that will pay tribute to the past," said Eric Larsen, General Manager of Sanford Sports Complex. "The displays we have selected from Daktronics give us high-tech capabilities but still elicit a nostalgic feeling."
The two endwall LED video displays will each feature 10 millimeter line spacing and measure approximately 10 feet tall by 17 feet wide. They will combine excellent image clarity and contrast, outstanding brightness, and wide-angle visibility to provide the best picture and views to those in attendance. Each display is capable of highlighting live video and instant replays, or they can be divided into separate windows to show a variety of graphics, animations, up-to-the-minute statistics, scoring information and sponsor advertisements.
The two scorer's tables will feature custom decorative wood and each will measure approximately 2 feet high by 9 feet wide. They will be combined together on one of the sidelines and will provide the opportunity to showcase sponsors throughout events as well as provide additional statistics and other game information.
To provide standard basketball scoring and statistical information, Daktronics will install a fixed-digit, four-sided centerhung scoreboard with a rotary clock. The centerhung is specifically designed to match the theme of the 1950s-60s era that is carried throughout the facility. Two fixed-digit auxiliary displays will also be installed to compliment the centerhung. These displays will show information such as score, game-time remaining, quarter and possession arrow.
"Daktronics appreciates the opportunity to partner with Sanford Health and the Sanford Pentagon on this exciting project," said Matt Warnke, Daktronics Sales Representative. "This system offers a unique design and gives you a 'Hoosiers' feel. We look forward to the first event in this great new facility."
As part of the installation, Daktronics Creative Services will provide content creation to help light up the new video displays with crowd prompts, announcements and sponsor messages.
Daktronics LED video and messaging display technology offers a long lifetime with minimal maintenance and low power consumption, providing value and excitement for years to come.
About Sanford Pentagon
The Pentagon by Sanford Health will be a 160,000-square-foot facility that will include nine basketball courts: six high school regulation, two professional/college practice courts and the "heritage" court. The heritage court will be located in the center of the facility and will be a premium professional/college-size court with design elements reminiscent of 1950s-60s basketball. The Pentagon will be the epicenter of the Sanford Sports Complex.
About Daktronics
Daktronics is recognized as the world's leading provider of full-color LED video displays. Daktronics began manufacturing large screen, full-color, LED video displays in 1997. Since then, thousands of large screen video displays have been sold and installed around the world. Since 2001, independent market research conducted by iSuppli Corp. lists Daktronics as the world's leading provider of large screen LED video displays.
Daktronics has strong leadership positions in, and is the world's largest supplier of, large screen video displays, electronic scoreboards, computer-programmable displays, digital billboards, and control systems. The company excels in the control of large display systems, including those that require integration of multiple complex displays showing real-time information, graphics, animation and video. Daktronics designs, manufactures, markets and services display systems for customers around the world, in sport, business and transportation applications. For more information, visit the company's World Wide Web site at: http://www.daktronics.com, e-mail the company at sales@daktronics.com, call (605) 692-0200 or toll-free (800) 325-8766 in the United States or write to the company at 331 32nd Ave. PO Box 5128 Brookings, S.D. 57006-5128.
Cautionary Notice: In addition to statements of historical fact, this news release contains forward-looking statements within the meaning of the Private Securities Litigation Reform Act of 1995 and are intended to enjoy the protection of that Act. These forward-looking statements reflect the Company's expectations or beliefs concerning future events. The Company cautions that these and similar statements involve risk and uncertainties which could cause actual results to differ materially from our expectation, including, but not limited to, changes in economic and market conditions, management of growth, timing and magnitude of future contracts, and other risks noted in the company's SEC filings, including its Annual Report on Form 10-K for its 2011 fiscal year. Forward-looking statements are made in the context of information available as of the date stated. The Company undertakes no obligation to update or revise such statements to reflect new circumstances or unanticipated events as they occur.
Contact
MEDIA RELATIONS: Justin Ochsner Marketing tel (605) 692-0200
E-mail:justin.ochsner@daktronics.com
Web Site:www.daktronics.com