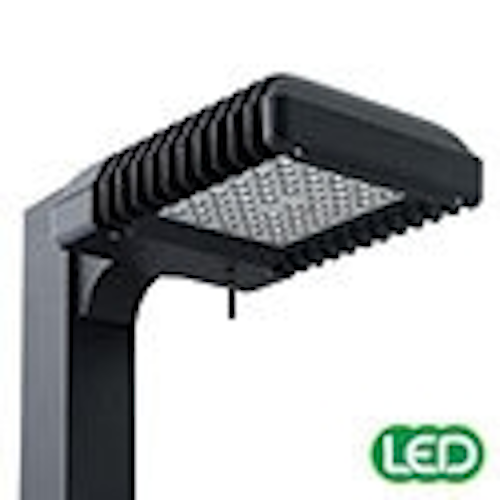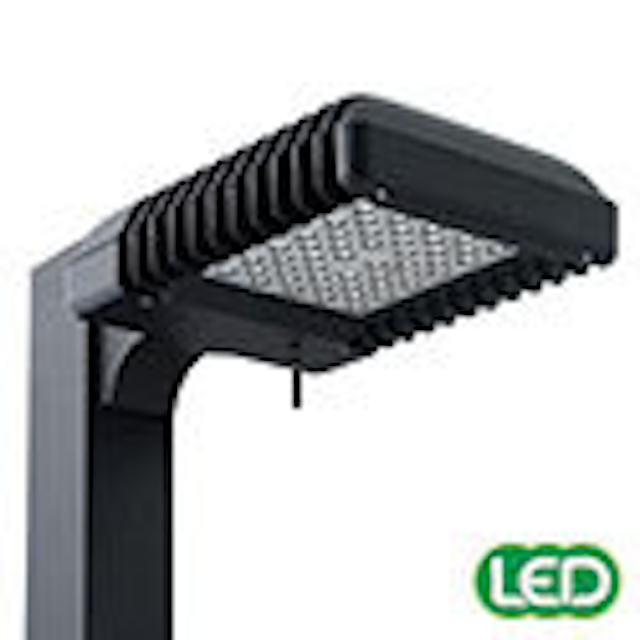 Date Announced: 19 Apr 2013
Superior LED performance and technology of Cimarron Series now available in Pedestrian Scale
GREENVILLE, S.C., – Spaulding Lighting, a Hubbell Lighting Inc. brand, is proud to announce that their most popular area site lighting fixture, the superior performing Cimarron LED area site light, is now available in an energy-efficient pedestrian scale luminaire. The Cimarron LED CL1S is designed for mounting heights of 12-20ft and provides the perfect pedestrian scale luminaire for municipal, park & recreation, educational and healthcare campus applications.
The Cimarron LED CL1S was designed with the most advanced LED lighting technology to deliver energy efficiency, safety and security and complements the aesthetics and performance of the larger Cimarron LED CL1 in the Hubbell Southwest Series. The energy efficient fixture will perform virtually maintenance-free with an estimated 60,000 hours life and uses less than 50% of the energy of an equivalent HID at full brightness. It is IP65 and UL1598 listed and meets Lighting Facts, DLC (Certification, May 2013) and Dark Sky requirements. The Cimarron LED CL1S is available in 54 high brightness LED configurations with rotatable optics in Type II, III, IV and V distributions providing a perfect balance of design, form, function and efficiency.
The Cimarron LED CL1S features a solid die-cast housing assembly with a sleek architectural profile. Installation design features include a quick-mount plate, quick-connect wiring and a door safety latch to prevent "free swinging" of the door and ease of installation in the field. Options of this versatile pedestrian scale fixture include backlight control resulting in up to 85% reduction in spill light behind the pole, continuous dimming, the latest in wiHUBB wireless controls, and motion sensors for off peak hours of operation. The Cimarron LED CL1S can be mounted to 3" or 4" square or round poles and wall mounted with a choice of seven standard finishes with custom colors available.
The Cimarron LED Pedestrian Scale Luminaire (CL1S) will be showcased in the Hubbell Lighting Booth # 1745 at Lightfair International – April 23 – 25th in Philadelphia, PA.
CIMARRON LED PEDESTRIAN SCALE SERIES (CL1S) FEATURES:
• Designed for pedestrian scale mounting heights (12-20ft.)
• Three lumen packages:
o 16 LED – 3,700 lumens – 39w – 95 LPW efficiency
o 32 LED – 7,300 lumens – 76w – 96 LPW efficiency
o 48 LED – 11,100 lumens – 111w – 100 LPW efficiency
• Available in 3000 (80 CRI), 4200 (70 CRI) & 5100K (67 CRI) CCT
• Type II, III, IV and V distributions with rotatable optics
• Maintenance free housing designed to IP65 and 60,000 hours life
• Vertically-finned die-cast housing optimizes heat transfer to keep the fixture cool and maximize component life
• Uses less than 50% of the energy of an equivalent HID at full brightness
• Control ready
• Backlight control option available
• Integral cast arm and quick mount plate provide easy installation
• Available in 7 standard finishes, custom colors available
• Standard thermal and surge protection
• DesignLights Consortium (DLC) approval (May 2013)
• Dark Sky approved
• UL1598, CSA, IP65
• 5 year warranty
For additional information on the Cimarron LED Pedestrian Scale Series, visit www.spauldinglighting.com.
# # #
Contact
About Hubbell Lighting: Hubbell Lighting is one of the largest lighting fixture manufacturers in North America. The company provides a full range of indoor and outdoor lighting products serving the commercial, industrial, institutional, and residential markets. Hubbell Lighting brands include Alera Lighting, Architectural Area Lighting, Beacon Products, Columbia Lighting, Compass Products, Devine Lighting, Dual-Lite, HomeStyle Lighting, Hubbell Building Automation, Hubbell Industrial Lighting, Hubbell Outdoor Lighting, Kim Lighting, Kurt Versen, Prescolite, Progress Lighting, Security Lighting, Spaulding Lighting, Sportsliter Solutions, Sterner Lighting Systems, Thomasville Lighting, and Whiteway.
E-mail:press@cfwevents.com
Web Site:www.spauldinglighting.com