Green Creative introduces 6.5W LED A19 lamp that delivers 500-lm for 40W equivalence
Apr 18th, 2013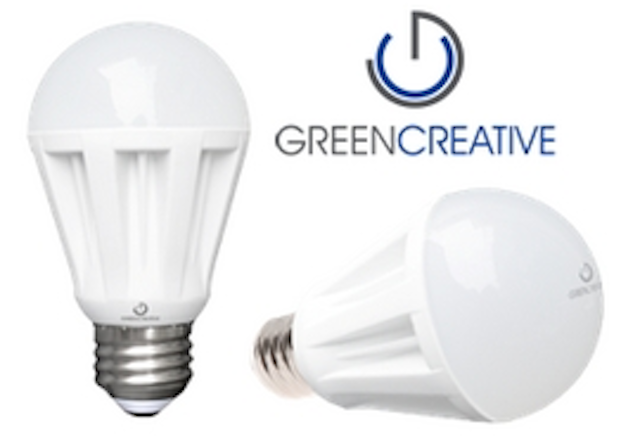 Date Announced: 18 Apr 2013
BURLINGAME, CA, GREEN CREATIVE LLC, the Commercial grade LED lighting manufacturer announces the availability of its new CORE LED SERIES A19 6.5W lamp.
At 500 lumens, this low-cost high-quality 40W replacement offers the same light output as an incandescent but lasts 25 times longer. The A19 6.5W lamp is perfect for general lighting applications such as down lighting, wall lighting, and up lighting and is a smart economical alternative to incandescent and CFL lamps.
GREEN CREATIVE's innovative heat dissipation design combines aluminum and thermal plastic in the lamp's heat sink construction. The result is a cost-effective light-weight lamp that outperforms other LED 40W replacements.
In a warm white color at 3000K, the A19 6.5W's efficacy is an impressive 77 LPW. When compared with other LED 40W equivalents, GREEN CREATIVE'S A19 6.5W lamp emits a more comfortable and uniform diffused light that replicates the feel of an incandescent.
The LED A19 6.5W turns on instantly and is compatible with motion sensors. It is available in a Warm White color in both 2700K and 3000K. GREEN CREATIVE is also proud to add the A19 6.5W lamp to its growing list of ENERGY STAR qualified products.
The product is available through GREEN CREATIVE distributors and is ready to ship from our west coast and east coast distribution centers. For more information on where to purchase the products near
you or how to become a distributor, please contact us at: sales@gc-lighting.com or (866) 774-5433.
Detailed information and data sheet about this new product available at: http://www.gc-lighting.com/products/a19-6-5w/
About GREEN CREATIVE LLC
GREEN CREATIVE is a major solid state lighting development; sourcing and manufacturing company specialized in providing high quality LED lighting products. The company is committed to provide only relevant high performance products that have been rigorously engineered, manufactured and tested for the demanding commercial market. More information about GREEN CREATIVE is available at http://www.gc-lighting.com
Contact
GREEN CREATIVE LLC 533 Airport Blvd., Suite 212 Burlingame, CA 94010 Tel / Fax: +1 (866) 774-5433
E-mail:info@gc-lighting.com
Web Site:www.gc-lighting.com