Dow Corning features high-performance silicones for LED designers at Lightfair
Apr 22nd, 2013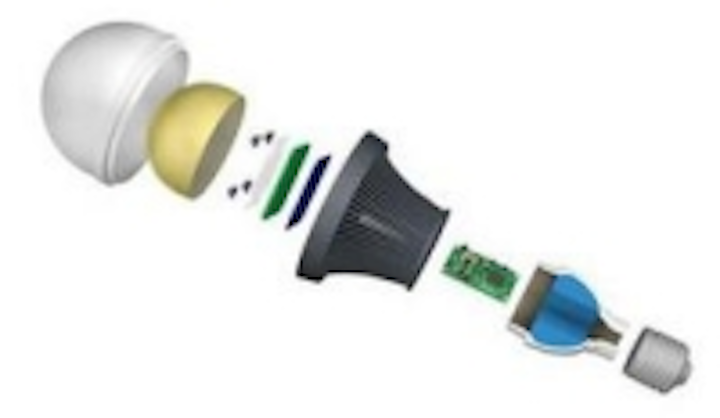 Date Announced: 22 Apr 2013
Philadelphia – Dow Corning, a global leader in silicones, silicon-based technology and innovation is showcasing at LIGHTFAIR International 2013 (booth #159) how LED designers and manufacturers can capitalize on the unique benefits that advanced silicone materials offer the fast-growing LED lighting industry. On display at the company's booth, LED applications and live demonstrations are spotlighting how high-performance silicones contribute to improved efficiencies, greater design freedom and enhanced productivity.
"Advanced LED light sources are fueling rapid global demand for innovative new materials that perform under very harsh conditions, especially high temperatures and power densities," said Eric Peeters, vice president, Dow Corning Electronic Solutions. "As a dedicated collaboration and innovation partner, Dow Corning is joining with our customers to meet this demand with LED silicone technologies. In this way, we can play an active role in helping them to drive the cost-effective and reliable development of true next-generation LED devices."
Offering excellent optical-quality and a variety of refractive index values, Dow Corning silicones allow designers to more effectively shape light and improve efficiency. Plus, the outstanding thermal stability intrinsic to these materials enables them to retain their excellent transparency and color quality even after prolonged exposure to temperatures exceeding 150ºC. Thus, compared to organic polymers like polycarbonate and acrylic, silicones provide a more effective hedge against heat-induced yellowing of optical elements in high-intensity lamp and luminaire designs.
Greater design flexibility is another major benefit that silicones provide. Today's LED lamps and luminaires may already incorporate over ten different silicone-based solutions, including adhesives, pottants, encapsulants, thermal management materials and optics. Yet, the high clarity and excellent moldability of Dow Corning's optical-grade materials enables LED manufacturers to achieve even broader design options, including more complex shapes, micro-scale optical structures and even undercuts that are difficult to achieve with plastics or glass. These qualities also expand design latitude for other optical elements, including secondary lenses, reflectors, light pipes, light guides and other high-performing optical components.
The Dow Corning booth is featuring three demonstration stations that illustrate these critical benefits using the company's broad portfolio of advanced LED silicones. They include a station highlighting how the materials enhance LED optical efficiency; a second demonstration station showcasing the tremendous design flexibility of silicone products; and a third featuring an injection molding machine producing optical silicone components to underscore the exceptional processability of these materials.
As the market leader in encapsulants for LED packaging, Dow Corning innovates high-performance silicon-based materials for the next generation of lighting designs. Dow Corning Lighting Solutions spans the entire value chain, adding reliability and efficiency for sealing, protecting, adhering, cooling, and shaping light across all lighting applications.
About Dow Corning
Dow Corning () provides performance-enhancing solutions to serve the diverse needs of more than 25,000 customers worldwide. A global leader in silicones, silicon-based technology and innovation, Dow Corning offers more than 7,000 products and services via the company's Dow Corning and XIAMETER brands. Dow Corning is equally owned by The Dow Chemical Company and Corning, Incorporated. More than half of Dow Corning's annual sales are outside the United States. Dow Corning's global operations adhere to the American Chemistry Council's Responsible Care initiative, a stringent set of standards designed to advance the safe and secure management of chemical products and processes.
Photo Courtesy of Dow Corning.
Contact
Mirella Kimpen Dow Corning Electronics Solutions
E-mail:mirella.kimpen@dowcorning.com
Web Site:www.dowcorning.com