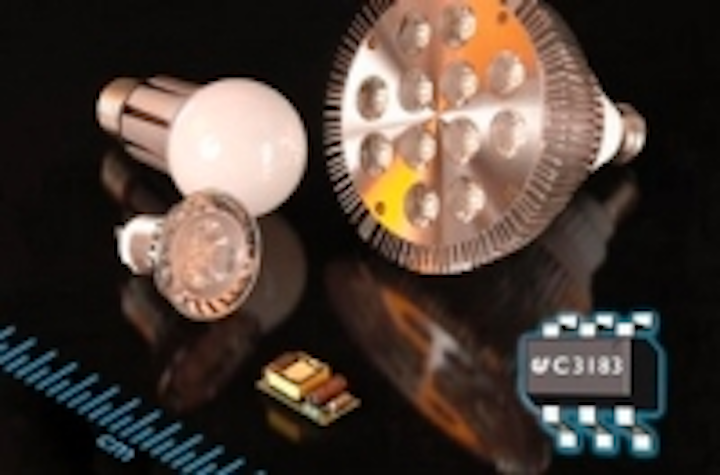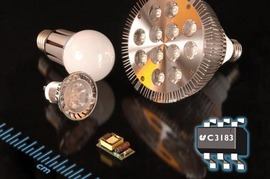 Date Announced: 08 Apr 2013
CamSemi has today announced a new high performance LED driver IC that will provide manufacturers with greater design flexibility in their drive to develop lower cost, more energy-efficient A-series, GU10 and other space-constrained LED lamp types.
The new C3183 LED driver IC targets volume applications in a wide power range from 3 to 20 W and with the same part being suitable for both high and low line applications (230 or 110 V), unlike many competitive approaches requiring multiple parts.
C3183 uses recent advances in CamSemi's patented Primary Side Sensing (PSS) and power-saving technologies to boost system performance and energy efficiency, while eliminating significant costs versus alternative solutions. This new LED driver IC delivers a power factor of 0.7 without needing a high voltage input electrolytic capacitor which saves cost but also increases lifetime of the overall system. Use of quasi-resonant switching and other techniques enable operating efficiencies in excess of 90% and C3183 provides current regulation at a new 'best in class' level of +/- 3% allowing more margin for thermal design.
CamSemi's latest LED driver IC is packaged in SOT23-6 for high density layouts; improved control enables operation at frequencies up to 100 kHz and use of smaller transformers; and frequency is programmed on-chip to further reduce component counts. C3183 drives an external MOSFET enabling one part to be specified across a wider power range which helps lighting manufacturers deliver energy-savings and value to a broad customer base worldwide.
"CamSemi's new C3183 LED driver IC offers considerable design and manufacturing flexibility that allows one design to be easily adapted for multiple applications at minimum cost. Lighting manufacturers are urgently looking to develop lower cost, more energy-efficient LED lamp replacements for incandescent lamps and we believe C3183 will be a significant step towards more commercially viable, mass market solutions," said David Baillie, CEO of CamSemi.
CamSemi's new LED driver IC can deliver true 'flicker-free' performance and be configured in isolated and non-isolated designs depending on the specific application requirements. Other features to further simplify designs and reduce system cost include: switching frequency dither and gate drive edge rate control to reduce EMI and full featured protection to guard against a range of fault conditions such as LED failure, over temperature and output short-circuit protection.
C3183PX2 samples are available now and a shortform datasheet can be downloaded from www.camsemi.com/datasheets. More detailed design information and regulatory compliance support are also available from CamSemi or one of the company's distributors.
Contact
http://www.camsemi.com/camsemi-locations/
E-mail:sales.enquiries@camsemi.com