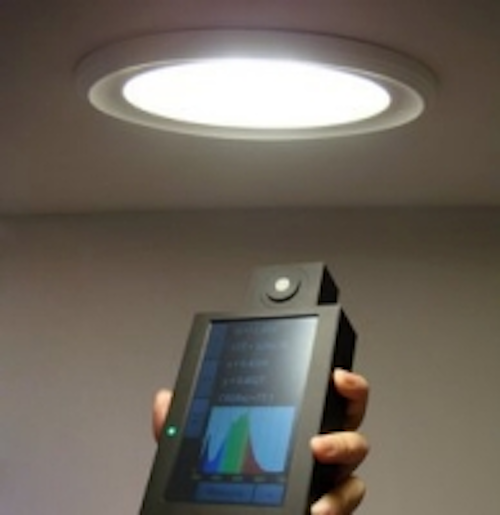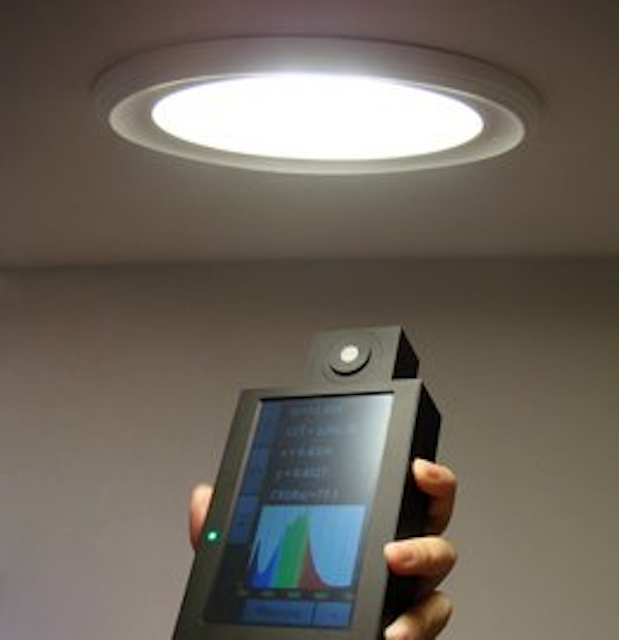 Date Announced: 11 Apr 2013
Gamma Scientific has announced the release of their new handheld spectrophotometer for spectral evaluation of LEDs, OLEDs, CFLs, displays and traditional lamps.
The GS-1150 spectrophotometer is a stand-alone instrument designed for lighting installers, designers and engineers who require accurate, low cost spectral measurements.
With a spectroradiometer-based design, the GS-1150 provides unprecedented accuracy for a handheld spectrophotometer. The GS-1150 spectrophotometer features a full-color, LCD touch-screen display and Android based software for intuitive operation.
The stand-alone instrument is ideal for both laboratory and field use with a rechargeable lithium ion battery and light weight design. Up to 500,000 files can be stored in the GS-1150 and quickly exported to Microsoft Excel format through a micro-USB cable for convenient data transfer.
Complete Spectral Measurement Capability
The GS-1150 captures precision spectral measurements with a linear CCD array sensor and wavelength range of 360-830 nm. Measurement capabilities include:
• CRI (color rendering index)
• Illuminance/Lux
• Spectral Irradiance
• CIE 1931 x, y coordinates
• CIE 1976 UCS uv coordinates
• Peak Wavelength
• Dominant Wavelength
• CCT (correlated color temperature)
About Gamma Scientific
With over 50 years of experience in developing commercial light measurement instruments, Gamma Scientific is trusted by the world's leading organizations to provide accurate and reliable results. Based in San Diego, California, Gamma Scientific manufactures laboratory grade spectroradiometers, spectrometers, spectrophotometers and integrating spheres. Gamma Scientific also operates an ISO 17025 compliant, NVLAP accredited laboratory that performs ENERGY STAR® lighting certification and LM-79 testing.
Contact
For additional information, contact: Anthony Zazo - Technical Marketing Manager Gamma Scientific - www.gamma-sci.com azazo@gamma-sci.com - 858.279.8034
E-mail:contact@gamma-sci.com
Web Site: www.gamma-sci.com/products/spectrophotometer-gs-1150/