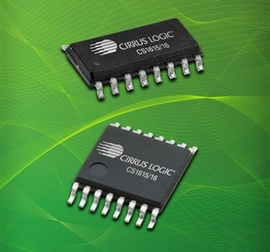 Date Announced: 23 Apr 2013
AUSTIN, Texas – Following its entry into the LED retrofit market in 2012 with a line of dual-stage LED drivers, Cirrus Logic, Inc. (Nasdaq: CRUS) has introduced its first family of single-stage LED drivers, the CS1615/16, targeting the incandescent lamp replacement market. Through patented technology, the CS1615/16 consistently outperforms competing single-stage LED drivers in dimmer compatibility while offering a total bill-of-material cost equal to competing solutions.
Across a broad range of dimmers, the CS1615/16 consistently dims to nearly zero light output, which closely matches the dimming performance of incandescent light bulbs. Competing LED drivers are not capable of this level of deep dimming and in many cases cannot dim to below 50 percent of light output. Limited dimming range, flicker effects and the inability to turn the bulb on or off are the most common factors that lead to high rates of return of LED bulbs.
"The CS1615/16 family continues our strategy of offering best-in-class dimmer compatibility while driving down system costs," said Tom Stein, vice president and general manager of the Energy Division. "This focus on performance and user experience will be a key driver to broad consumer adoption of LED lighting."
Market research firm Datapoint Research estimates that the LED retrofit market is expected to grow from 248.5 million units in 2012 to 1.9 billion units by 2016.
To test dimmer compatibility, Cirrus Logic developed a testing methodology that scores LED bulbs on multiple factors including flicker-free operation (bulb does not flicker at any point along the full dimming range), smooth "monotonic" dimming (bulb dims steadily without sudden "jumps" or drops in light levels) and full dimming range operation (bulb dims effectively from maximum to very low light output). Cirrus Logic acquired more than 300 dimmers consisting of some of the most popular models on the market today and representing much of the global installed base. In these tests, the CS1615/16 outperformed its competitors in both single- and multi-lamp configurations.
Digital control is the key to performance
Most dimmers are designed for operation with the purely resistive load of an incandescent; however, the additional electronics in an LED bulb create significant compatibility challenges. Cirrus Logic's patented dimmer-compatibility technology identifies the type of dimmer in use and applies the appropriate operating mode. This adaptive digital technology consistently provides full functionality on even the most challenging leading edge, trailing edge and "smart" digital dimmers. Cirrus Logic's LED drivers enable next-generation bulbs to meet proposed standards from Energy Star, NEMA, California Energy Commission and other standards groups that are pursuing newer, more stringent requirements for dimmer compatibility.
The CS1615/16 provides primary-side constant current control and tight LED current regulation, high efficiency, active power factor correction and low THD. These ICs support isolated and non-isolated topologies with minimal EMI filter design requirements. Additional features include output open circuit protection, output short circuit protection and optional external over temperature protection using an NTC. The CS1615 is designed for 120VAC line voltage applications, and the CS1616 is designed for 230VAC line voltage applications.
Pricing and Availability
The CS1615/16 is currently sampling to key customers and is expected to be in volume production in early summer of 2013. It is available in 16-pin SOIC and 16-pin TSSOP packages, and is priced at $0.88 (USD) in quantities of 100,000.
Cirrus Logic, Inc.
Cirrus Logic develops high-precision, analog and mixed-signal integrated circuits for a broad range of innovative customers. Building on its diverse analog and signal-processing patent portfolio, Cirrus Logic delivers highly optimized products for a variety of audio and energy-related applications. The company operates from headquarters in Austin, Texas, with offices in Europe, Japan and Asia. More information about Cirrus Cirrus Logic and Cirrus are trademarks of Cirrus Logic, Inc. All other product names noted herein may be trademarks of their respective holders.
Contact
Bill Schnell Cirrus Logic Inc.
E-mail:bill.schnell@cirrus.com
Web Site:www.cirrus.com