SFT announces LED candle with 30,000-hr projected life and Energy Star recognition
Apr 2nd, 2013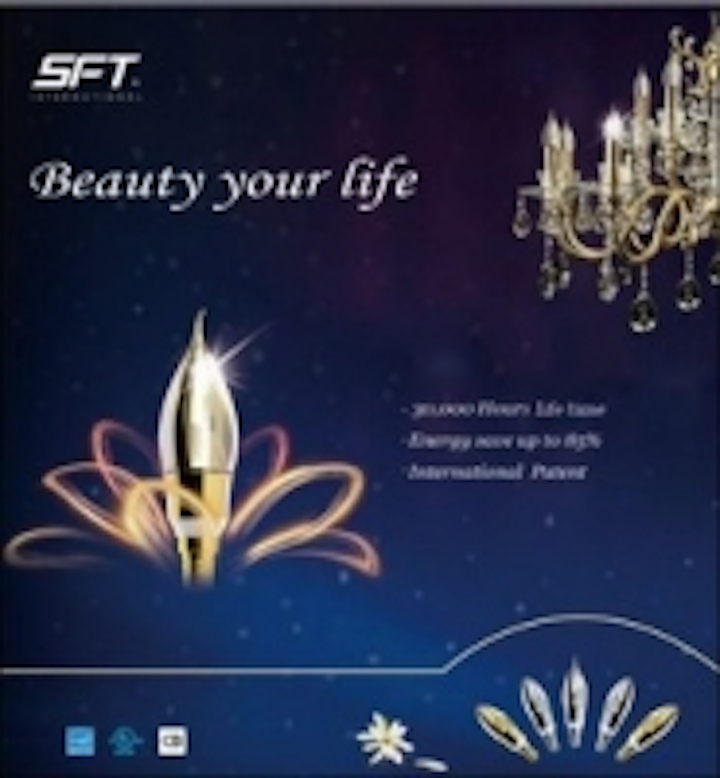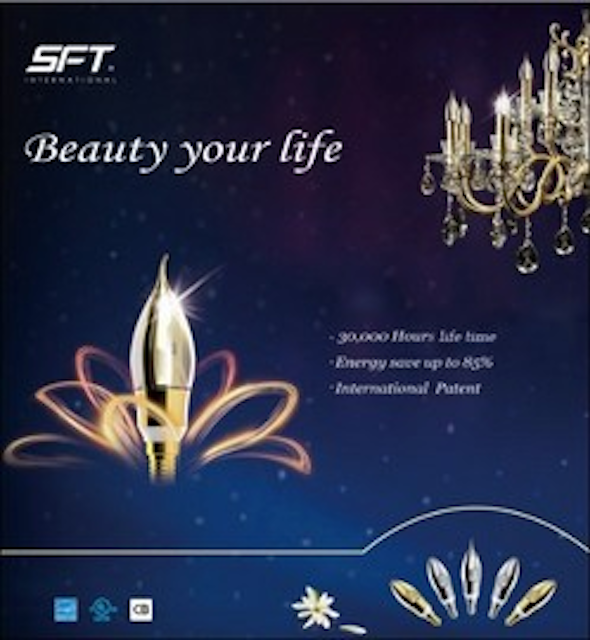 Date Announced: 02 Apr 2013
The LED candle design delivers an omni-directional beam pattern, features an optimized thermal management design, and is rated for more than ten years of normal use.
The SFT Magnolia LED B35 Bulb is a creative solid-state lighting (SSL) product compared with common LED candle bulbs. By adopting an artistically-oriented design concept, SFT applied a Magnolia shape into the LED candle and created the patented distributing cavity for beam distribution. With this technology, omni-directional lighting and better thermal dissipation can be realized. The lamp offers naturally warm light with a beautiful sparking effect, while consuming 4-5W,which allowed SFT to achieve Energy Star certification for the product.
In order to enlarge the market share of its products in North America, SFT has obtained UL、ETL、and Energy Star certification on its LED products. Recently, the SFT Magnolia LED bulb has passed 7500 hours of testing, and the company projects the life of the bulb to 10 years.
Design &Technical Highlights
1、 Crystal sparking warm light by clear bulb, comfortable soft light by frosted bulb. Perfect for chandelier application.
2、 300°light distribution. All round illumination
3、 Excellent stability of high color temperature by white LED technology with top brands.
4、 Long life:30,000 hours lifetime
5、 Energy saving: Up to 85% energy saving
6、 Environmental friendly:No mercury, no UV light, no hazardous material, benefit for your health and environment friendly.
7、 Excellent customer service: 5 years quality guarantee
About SFT - Sense Future Technology
- SFT lighting has 18 years professional lighting experience, being the first mover into LED lighting industry in China, operating one of biggest LED light factory in China.
- SFT's ambition is to be Top One manufacture of LED indoor luminaries in China.
- SFT is OEM supplier of the well-known largest lighting companies
- SFT has wide range of LED lighting product lines.
- SFT had UL and Energy star for LED candle light
- SFT had ETL and DLC for LED High bay and LED troffer light
- SFT was ranking first of China brands for LED street light in 2011
- SFT awarded all LED lighting products tender from China government financial subsidies project in 2012. SFT is one of the top two enterprises amongst 39 contestants whose submitted product lists are all selected.
Contact
Jiangsu SFT Optoelectronic Co., Ltd. Tel: +86 25 8319 4011
E-mail:enquiry@sftinternational.com
Web Site:Website: www.sftled.com