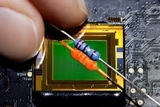 Date Announced: 17 Apr 2013
For the first time Fraunhofer COMEDD will present latest competencies in the field of image processing especially for OLED-on-silicon sensors at LASER 2013
For some time Fraunhofer COMEDD integrates organic light emitting diodes (OLED) in combination with sensor devices in silicon. Thus we are able to develop various customized sensor applications. These sensors can be used e. g. in industry, medicine or the biotechnology sector. The processing of the resulting data is essential for the use of these sensors in the different fields of applications.
Therefore the biomedical and technological image processing is an essential part of modern digital diagnostics. A large number of individual examinations lead to extensive image data, which are edited and processed on different computer systems. The findings are substantially influenced by the image data reconstruction (iterative or with filtered back projection), by the image arithmetic, by the image fusion of different modalities and the presentation of the image data. Modern diagnostics is only possible with the help of an overall IT system and by the use of extensive software and data analysis. Fraunhofer COMEDD is now developing such competencies in the field of visualization, image processing, data management and interaction.
Dr. Karol Kozak, head of IT at Fraunhofer COMEDD is pleased: "In the future it will be possible not only to obtain customized sensors but also suitable custom-designed visualizations and computer graphics, man-computer-interaction and interactive systems, computer vision and pattern recognition."
Therefore Fraunhofer COMEDD focuses on the development of new interaction technologies:
• Automatic image processing and multeparamtric data analysis (fig. 1)
• Development, implementation and evaluation of new ideas and concepts for data interaction
• Identification, customization and integration of existing components and libraries for the realization of suitable, typical volume rendering and visualization methods in the virtual reality laboratory (fig. 2)
• Modern web-based data management systems and databases (fig. 2)
Image retouching, montage, removing of interfering elements or aberrant lines, gradation curve modification or sound and color correction reflect only a small part of all possibilities of automatic image processing.
The aim of our work on image processing of OLED-on-silicon sensors at Fraunhofer COMEDD is to design and implement software solutions, which enable the processing of typical visualization tasks and data management for huge data amounts , as it occurs e. g. in the biomedicine branch.
Contact
Fraunhofer COMEDD Ines Schedwill Head of Marketing Maria-Reiche-Str. 2 01109 Dresden Germany Tel.: +49 (0) 351/8823-238 Fax: +49 (0) 351/8823-394 e-mail: ines.schedwill@comedd.fraunhofer.de Internet: www.comedd.fraunhofer.de
E-mail:info@comedd.fraunhofer.de