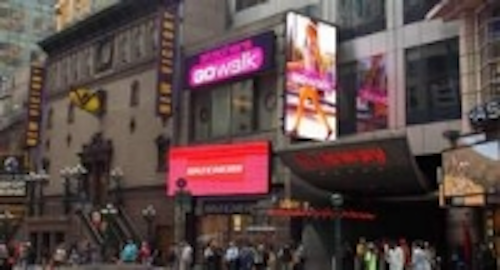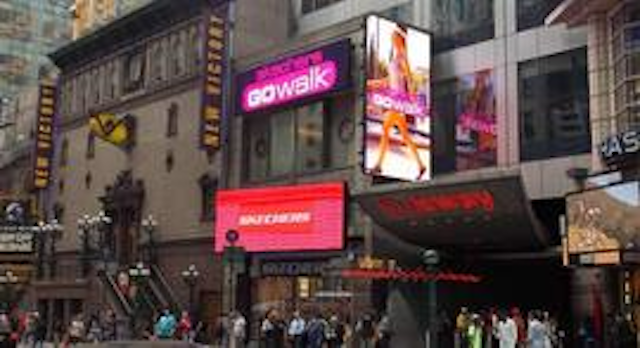 Date Announced: 15 Jul 2013
BROOKINGS, S.D. – SKECHERS USA, Inc. (NYSE:SKX) recently remodeled their East Coast flagship store located on 42nd street in Times Square. The new look features five spectacular outdoor LED displays and three static displays provided by Daktronics Inc. (NASDAQ – DAKT).
SKECHERS' new Times Square signage includes a marquee with two main high resolution LED video displays and two illuminated backlit channel letters. In addition to the marquee displays, SKECHERS added a LED banner display and a LED video blade. The combined LED video system spans more than 700 square feet, features 10 mm pixel spacing and exclusively advertises the SKECHERS brand. Watch a video of SKECHERS new LED displays in action: http://www.daktronics.com/ProductsServices/VideoGallery/Pages/Skechers.aspx
"The new LED screens have definitely enhanced our Times Square store with more dynamic visual displays," said Marc Rooney, vice president of retail operations for SKECHERS USA. "We are very pleased with the results of this remodel in one of the key tourist and shopping destinations in the world."
In addition to the four LED video displays, Skechers chose Daktronics ProPixel® freeform puck elements as a lighting accent beneath the storefront's canopy, adding another depth of ambiance to the modern design aesthetic.
Daktronics HD LED video displays bring high-resolution video to any environment by combining the brightest, bin-sorted LEDs available with a flexible, weather-ready video module design. A darker display face provides deeper, more pronounced blacks, while custom LED louvers and an innovative pixel layout work to significantly improve color integrity.
Daktronics' first Times Square project was for the Dow Jones Zipper display in 1986. Since then, no other electronic display manufacturer has installed more LED displays in this world-renowned area.
Discover more about Daktronics dynamic LED video displays at: www.daktronics.com/spectaculars.
About SKECHERS USA, Inc.
SKECHERS USA, Inc. (NYSE: SKX), based in Manhattan Beach, California, designs, develops and markets a diverse range of footwear for men, women and children under the SKECHERS name. SKECHERS footwear is available in the United States via department and specialty stores, Company-owned SKECHERS retail stores and its e-commerce website, and over 100 countries and territories through the Company's global network of distributors and subsidiaries in Brazil, Canada, Chile, Japan, and across Europe, as well as through joint ventures in Asia. For more information, please visit www.skechers.com, and follow us on Facebook (www.facebook.com/SKECHERS) and Twitter (twitter.com/SKECHERSUSA).
About Daktronics
Daktronics has strong leadership positions in, and is the world's largest supplier of, computer-programmable displays, large screen video displays, digital billboards, electronic scoreboards and control systems. The company excels in the control of large display systems, including those that require integration of multiple complex displays showing real-time information, graphics, animation and video. Daktronics designs, manufactures, markets and services display systems for customers around the world, in sport, business and transportation applications.
Contact
Call 605-692-0200 ext. 56219 or toll-free 800-325-8766 in the United States
E-mail:commercial@daktronics.com
Web Site:www.daktronics.com