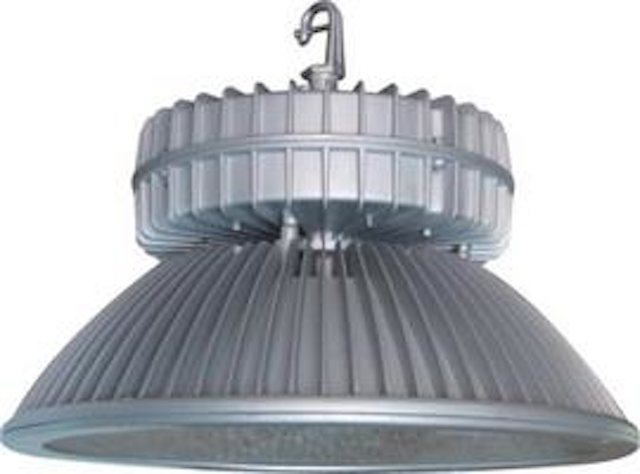 Date Announced: 15 Jul 2013
(Trevose, PA) YS Lighting, a leader in the design and manufacture of high-performing, energy-saving, and aesthetically-pleasing LED fixtures for a broad range of professional settings, is pleased to announce the introduction of its unique new line of 'Retro Industrial' LED Low-Bay fixtures. A high-efficiency series of luminaires with an appealing pendant-style, vintage/industrial aesthetic that's experienced a recent resurgence in popularity within the architectural and interior design world, the fixtures are ideal for a variety of high-end and big box retail settings as well as commercial and light industrial applications.
Available in 70, 85, and 110-output watt models and 6600-10500 lumen packages to efficiently replace 150-250 watt metal halide technology, the series' retro industrial design is ideal for high-end or big box retail, grocery, gymnasium, and other high-ceilinged public areas. Offered in 3000K, 4000K, 5000K, and 6000K color temperatures for enhanced design flexibility, the DesignLights Consortium® (DLC)-approved fixtures deliver a long, 50,000-hour life and are manufactured of precision die-cast aluminum with a unique non-glare tempered safety glass enclosure for maximum durability. Featuring an ambient operating temperature of 40°C, the fixtures are IP-65 rated for use in damp locations and further incorporate an exterior powder-coated finish to ensure reliable operation in extreme weather conditions.
"We're delighted to introduce our popular new 'Retro Industrial' line of LED low-bays, part of YS Lighting's multi-faceted response to the market's increasing demand for lighting fixtures that combine the best of nostalgic design with the utmost in maximum performance and high efficiency," said Steve McGuire, president of YS Lighting. "Our series of LED low-bays delivers an appealing industrial aesthetic that will complement the décor in a diverse range of settings, from chic retail outlets to grocery applications, lobbies/entryways, and other public arenas, while delivering the desirable long life, low maintenance, and sustainable benefits associated with LED technology."
About YS Lighting
Founded on a strong tradition of innovation, YS Lighting, the U.S.-based arm of renowned Chinese parent Yaships Lighting, is the industry's newest one-stop source for a full range of affordable and energy-efficient lighting fixtures. With a wide variety of high-performing, energy-saving, and aesthetically-pleasing LED and HID lighting fixtures to support popular high-bay, low-bay, path, roadway, general applications, and more, YS Lighting is dedicated to meeting the needs of today's most diverse professional lighting users. Conveniently located in Trevose, PA, YS Lighting offers strong in-house engineering expertise, U.S.-based manufacturing, and quick shipping and is fully stocked to support your broad-based lighting needs.
Contact
YS Lighting 267-684-6353
E-mail:info@yslighting.com
Web Site:www.yslighting.com