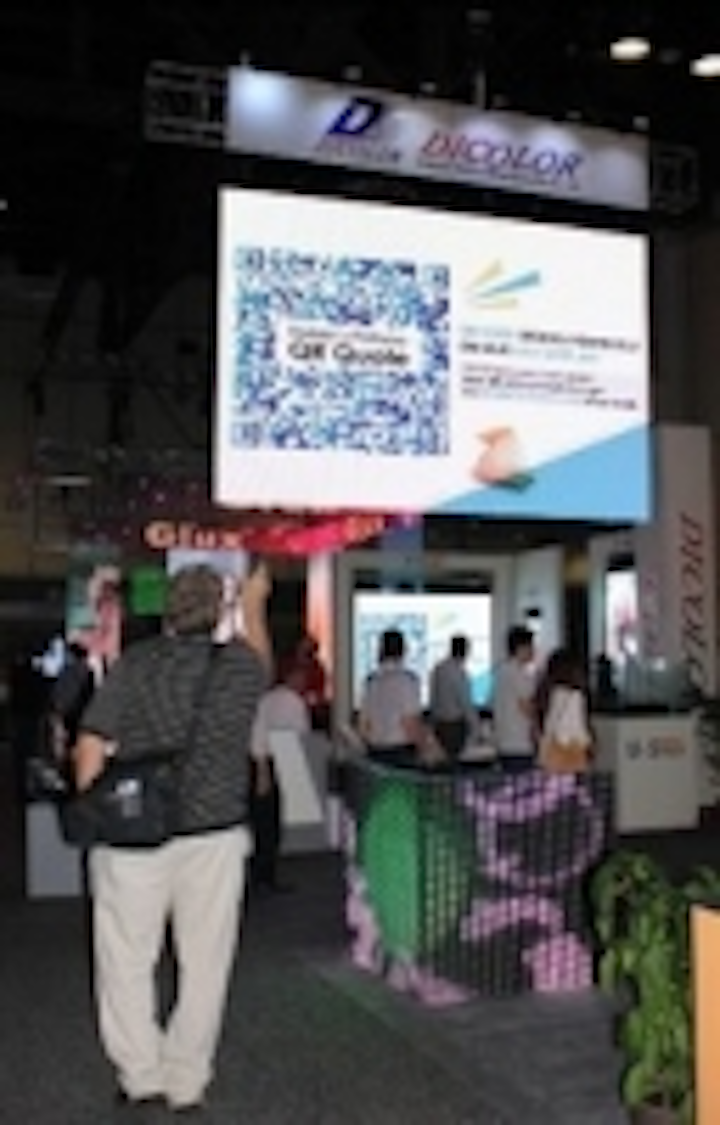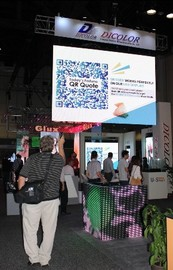 Date Announced: 26 Jul 2013
QR code campaigns are getting more popular every year, yet consumers start to complain that they cannot scan QR codes easily or successfully on LED displays or LED billboards. Providing the solution of "scannable QR code"on LED display, Macroblock, devoted to LED display driver IC technology, held QR code campaign with LED display customers at Infocomm 2013 to prove the QR code scan-ability on LED displays. Audiences enjoyed both the high quality images and the fast response of QR code on LED displays through this campaign, making it a highlight at Infocomm 2013.
Macroblock held QR code campaigns with Dicolor Optoelectronics and Radiant Opto-elec Technology Co.,Ltd at Infocomm 2013. Audiences and buyers may scan the QR code on LED display successfully on Dicolor's rental LED displays (UVI Series) and Radiant's LED curtain screen (Linx-9M) and get the secret gifts at Dicolor and Radiant's booths.
Robert Chen, Macroblock's general manager explains, "The QR code boom indeed brings a higher threshold in LED display technology. LED display buyers usually put the physical structure such as easy installation and seamless, as the first priority; then the overall brightness, and after that, they think of image quality. But more and more advertisers are using QR codes for marketing campaigns and advertisers realize that making QR code work on LED display become even more critical." Robert Chen further explains, "If the refresh rate of an LED display is not high enough, the camera of a smart phone may easily capture black stripes on the screen, which makes QR code not easily or successfully scanned. Macroblock's S-PWM LED driver IC series can simultaneously satisfy the image quality needs of high refresh rate, high grayscale, and high luminous efficacy. To prove the QR code scan-ability on LED displays, we invited our customers, Dicolor and Radiant, to hold QR code campaigns at Infocomm 2013. And we are glad that the 'scannable QR codes on LED displays' made a splash in the exhibition."
"Dicolor presented the innovative UVI series rental LED displays at Infocomm 2013. The displays are PH6.4, PH4, and PH8 respectively, and three different kinds of structure design can meet all kinds of rental market requirements. We held the QR code campaigns with Macroblock to show the high grayscale, high refresh rate and high contrast image quality, and this eye-catching campaign successfully attracted buyers and created a discussion of how to qualify a good image quality display at our booths," Mr. Du, Dicolor's sales director says.
Mr. Wang, Radiant's marketing manager, is happy with the campaign result and says,"Radiant showed a series of flexible and light-weight LED curtain screens with high quality image. We co-promote the QR code campaigns with Macroblock on our LED curtain screen-Linx 9M, and we are surprised that many buyers and audiences came to our booth to test the QR code scan-ability on the LED screen with positive responses."
Macroblock's S-PWM LED driver IC series can easily upgrade the image quality to meet the market demands, and for more information about the LED display upgrade program, please visit Macroblock website or contact us via email.
Contact
Macroblock Inc.
E-mail:marketing@mblock.com.tw
Web Site:www.mblock.com.tw