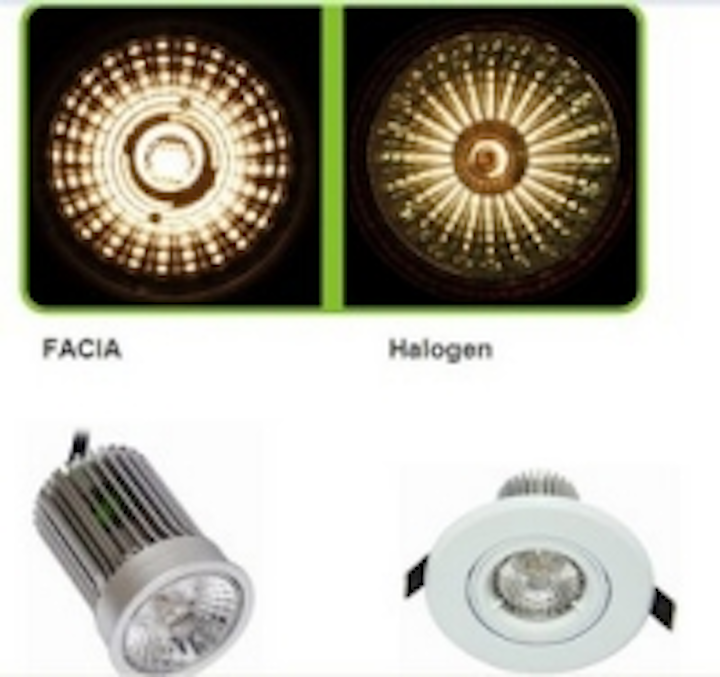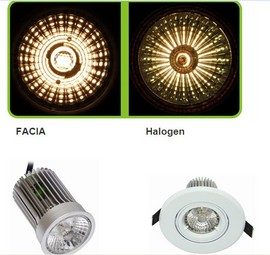 Date Announced: 03 Jul 2013
LED Group is pleased to introduce our LED spot light and down light series with FACIA lens. They are designed for a direct replacement of a true 50W halogen replacement that precisely produces the identical light output as a conventional down light, perfect for residential, office, retail or hotel application with a maximum energy saving of 80%. They are also equipped with anti glare lens, dimmable 620 lumens light output, and light weight design. These units are designed to optimize energy efficient, high-powered LEDs along with improving the quality of the lighting. Rugged, durable, energy efficient and long-lasting – everything you would expect from LED group lighting product. Options degrees at / 36° / 60°.
The main housing is made from Aluminum and is powder coated for strength and durability, and with nearly 20 degrees of rotation for making this a very unique spot light.
Available in both warm white and natural light and a lasting up to 50,000 hours, it comes with an external driver. Both RoHS and CE, SAA, TUV certified LED spotlight and LED down light.
What is FACIA?
FACIA is a technology used in our lens, which offers a high lighting output ratio, and a beautiful lighting effect like halogen lamps. It is designed to increase LOR (lighting output ratio) and avoid strong glare burns at the same time.
Why do we develop FACIA?
In the optical field for LED lighting, every professional customer is facing the same question--how could a LED lamp produce high lumen output without hurting our eyes? At the beginning we developed the reflector design, which is now still very hot on sale; however the big light loss through the reflector causes lower lumens. Then we started to develop the FACIA lens from earlier 2010. With its high LOR and perfect lighting effect, it turns out to be a perfect solution for LED lighting.
Using FACIA technology produces a much more effective and usable light as found in traditional halogen spot lights. This is led technology at its best, with an anti glare lens that effectively protects eyes from glare burn, emits virtually no /UVIR light in the beam and contains no mercury. FACIA lens replicates the look and light effect of a traditional halogen dichroic.
MODULO LED DE - DICHROIC EFFECT
- LED lamp complete with electronic driver 230V, 50-60Hz (see separate code for the driver).
- Lamp with aluminum body.
- Working temperature: -15 +40°°C.
- Modulo DE is particularly appreciated for the dichroic effect of the reflector. It is then a LED lamp that looks like a halogen dichroic!
- Can be used in existing recessed fixtures to replace a halogen dichroic lamp.
- Ensure the fixture used to house the Modulo is suitably ventilated.
- The Modulo LED cannot be used in systems with a dimmer switch.
- The Modulo Led must be supplied with its driver.
- Total length of driver and Modulo connecting wire is 22 cm.
Item characteristics
Code ZKMOD10CM
Lamp voltage 36,5Vdc V
Nominal power 10 W
Base Connettore / connector
Input current 200mA
Nominal flux 620 lumen
Light tonality Warm white
Colour temperature 3000 K
Opening beam 38
Diameter 49,5 mm
Length 79 mm
Weight 148 gr
Performance
Axis cd 1380
Photometry F70
Irc/Ra 85
Lifetime 30000 h
Energy class A
Equivalence with incandescent lamp W
Tech info
Open fittings Yes
Number of ON-OFF cycles 100000
Warm-up time up to 60% of the full light output Instant Full Light
Lamp start time <0,2s
Mercury (mg) 0
LLMMF - Lamp lumen maintenance factor 70%
Fulfilled Directives and norms
We challenge you to purchase a sample and compare the light output quality and intensity vs any other LED down light on the market.
About LED Group
LED Group has been a leading manufacturer of quality lighting products in China for 30 years. In long term cooperation with world renowned companies like Kingfisher, Sylvania etc., we accumulated R&D strength in converting product concepts into business benefits with professional service experience to worldwide customers. Therefore, the company establishes its global presence and a good reputation in both domestic and overseas markets.
Contact
LED HongKong Ltd Davis, marketing manager +86-757-8512-2415
E-mail:davis@led-group.com
Web Site:www.led-group.com