Alumen8 offers 'KILLER LED' fixture with ultra-shallow recessed grid-ceiling design
Jul 22nd, 2013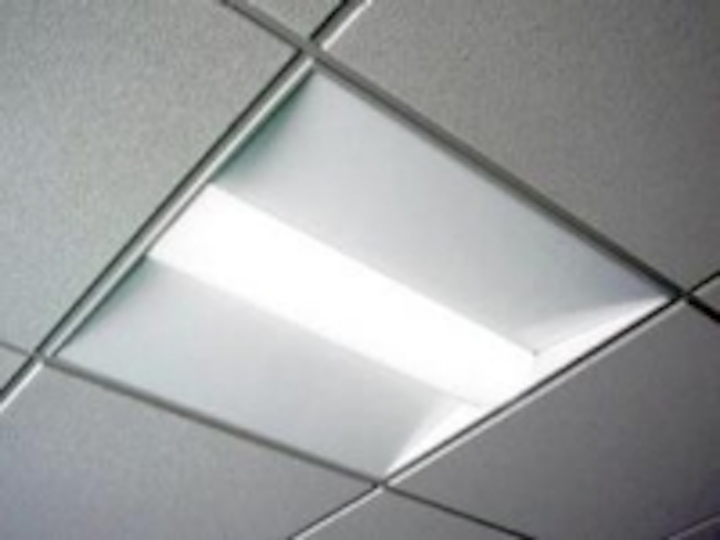 Date Announced: 22 Jul 2013
New product introduction: KILLER LED Series — Interior grid-ceiling LED downlights, with ultra-shallow integral housings for retrofit and new commercial/institutional installations. (Alumen8 derives its product names from surfing terminology, based on company origins near the ocean in Southern California, center of surfing culture. "KILLER" means difficult, challenging, intense conditions.)
Design: Ron Lancial and the Alumen8 In-House Lighting Design and Engineering Team.
Manufacturer: Alumen8 — an AmerillumBrands company, founded 2001. U.S. manufacturer of energy-saving LED and linear fluorescent lighting exclusively.
Product applications: KILLER LED Series provides elegant, contemporary architectural-design, uniform interior ambient illumination. It replaces higher-watt, shorter life T8 and T12 much less-shallow recessed ceiling luminaires with lower-watt, longer life LEDs of integral design. Models suit a broad range of commercial, institutional interiors; they further replace energy-inefficient interior HID (high-intensity discharge), incandescent or halogen light fixtures.
KILLER LED Series is particularly economical to operate and maintain. It emits white high-color-rendition light; is built to last; and is cost-effective, short and long term. As an ultra-shallow recessed grid-ceiling luminaire, models suit a broad range of applications including clinics, hospitals, laboratories and physician offices; libraries, museums and galleries; offices, corridors, reception areas; hotels; schools and universities; retail, entertainment and themed venues.
Product description: KILLER LED Series is immediately notable for its non-glare pure white, extraordinarily even direct downlight. It resembles in outward appearance the best of T5 shallow-recessed grid-ceiling light fixtures, yet with much higher immediate energy savings, and much lower long-term maintenance. Equally notable is the luminaire's very shallow, two-inch-deep downlight housing design. It is adaptable vertically or horizontally along acoustical grid-ceiling panels in any size space; especially those with shallow or "crowded" ceiling plenums.
Flush-mounted housings may be placed in any common, flat, T-Bar "drop" ceiling. Luminaires are 2 ft. x 2 ft., or 2 ft. x 4 ft. Downlight shielding choices are a 5-inch proprietary radial, linear-patterned lens in either clear or frosted acrylic, creating soft illumination from below, while maintaining a very high light output and obfuscating any lamp image.
Luminaires are produced with high-performance Nichia® LEDs rated at 50,000 hours operating life. Choose 3500K, 4000K or 5000K color temperatures. Lumen outputs at the circuit board provide two choices: standard output for 2 ft. x 2 ft. at 30W per LED, 2000 lumens at board; high output for 2 ft. x 2 ft. at 48W per LED, 4016 lumens at board. Custom lumen packages available.
LED boards are made in America, designed and manufactured by Alumen8 for superior performance. They are replaceable, built in foot-long increments. LED driver is a 12V DC system, also rated at 50,000 hours, using constant voltage of 120 or 277V. It has extreme low-temperature performance to -40°C, with a 90°C case rating. A 0 to 10V dimming-module option is available.
Each luminaire contains an optical platform engineered for maximum light output and energy conservation. A precision-formed reflector design, unique light-spreading diffusers, and optimal diode spacing, minimize the typical "dot-dot-dot" appearance of LEDs while maximizing even light distribution. LED lamps and driver each have a 5-year warranty.
Construction & finishes: Ultra-sturdy KILLER LED Series fixture housings are constructed from high-quality 22-gauge steel, standard (20-gauge optional for NYC codes). Housings are computer numerically-controlled machine-tool formed, precision mechanically joined. A low environmental-impact powder-coated finish is standard in satin white. Alumen8 KILLER LED Series is UL, cUL Damp-location listed, meets IES LM-79, LM-80 electronics and photometric measuring standards, for solid-state luminaires. (Same as U.S. D.O.E. Energy Star® tests.)
Learn more about KILLER LED Series and other Alumen8 advanced-design, energy-conserving interior and exterior lighting products. Alumen8 is located in its own new architect-designed plant and office building at 3728 Maritime Way, Oceanside, California 92056 and is a division of AmerillumBrands.
Contact
Alumen8 760-727-7675
E-mail:mlipiec@amerillumbrands.com
Web Site:www.Alumen8.com