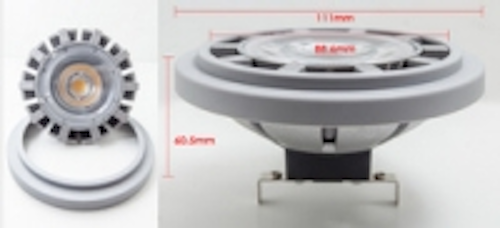 Date Announced: 22 Jul 2013
Penang, July 17th, 2013 ---- Ledzworld Technology, an innovative technology company that supplies customized LED solutions for professional end-users, launches an industry first AR-111 with 1000 lumen!
The lamp features is single focus with the latest RGOT (Reduced Glare Optical Technology) that uses a diamond cut optical lens which is machined using high natural or synthetic diamond-tipped tool bits. RGOT achieves higher accuracy and precision that reduces glare and provides better control on the beam angle.
Ledzworld's AR-111 RGOT is an industry first that is true retrofit sized, unlike many odd sized lamps currently in the market. It also has a patented removable outer ring to allow for flexibility in matching the lamp with the application/fixture color. The interchangeable rings come in a selection of silver, white and black.
The AR-111 RGOT is slated to launch in Q3 2013 in dimmable and non-dimmable options.
About Ledzworld;
Ledzworld Technology is an innovative Malaysian based (Dutch owned) Technology company that continuously develops and integrates the latest available technologies into its complete LED-retrofit product range. By applying the last technology generations, Ledzworld's products continue to out-perform the products of its competitors including those of all A-brands.
Ledzworld integrates new technologies faster than its competitors and has become a reputable OEM/ODM supplier of a growing number of large global brands in the lighting -industry. Ledzworld strives to be the quality technology provider behind the largest brands in the lighting industry who are increasingly facing difficulties to keep up with the fast pace of the LED retrofit industry.
Ledzworld received the LFI innovation award 2010 during the LFI lighting fair in Las Vegas in the "general lighting category"
Contact
Ledzworld Technology Sdn. Bhd. No. 63, 3rd Floor, Pesara Kampung Jawa, 11900 Bayan Lepas, Penang, Malaysia. Phone: (+60) 4 6300 800 Fax: (+60) 4 6300 808
E-mail:Email: info@ledzworld.com
Web Site:www.ledzworld.com