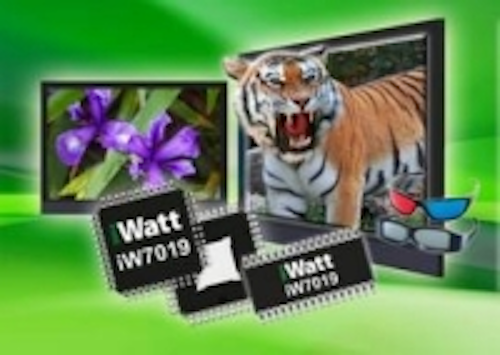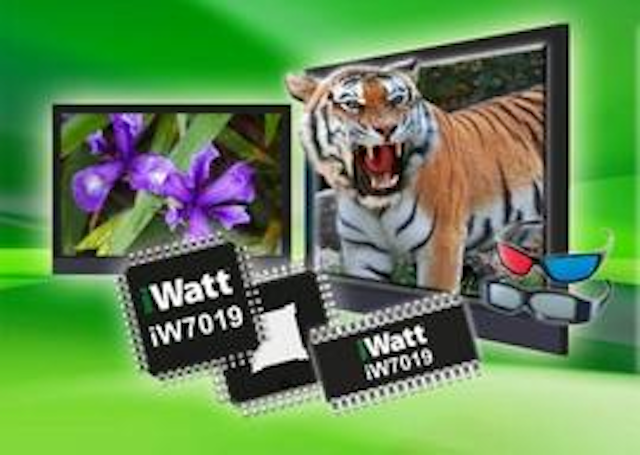 Date Announced: 11 Jul 2013
iWatt has launched its iW7019 8-channel LED backlight driver for next-generation 2D and 3D LCD TVs.
The iW7019's rich set of integrated features allows designers to improve picture quality and render a more lifelike viewer experience. It is optimized to reduce motion blur by simplifying backlight scanning through the integration of both head- and tail-mode PWM dimming. High-resolution 12-bit local dimming also improves contrast ratio.
Other integrated features include a 10V gate drive DC-to-DC boost controller, high-voltage current sinks, and iWatt's patented BroadLED digital current regulation technology to eliminate the need for expensive LED binning. This one IC with its comprehensive dimming modes provides designers with maximum flexibility to support both patterned retarder and shutter glass 3D TV technologies, as well as 2D TV.
On a separate note, last week, Dialog Semiconductor announced it has entered into an agreement to acquire iWatt Inc. The transaction is expected to close by the end of July 2013. Until that time, iWatt remains a separate entity.
Contact
Bill Moody, Moody & Associates PR bill@moodypr.com 214-363-3460
E-mail:shill@iwatt.com
Web Site:iwatt.com/press-release/iwatt-8-channel-led-backlight-driver-makes-tv-more-lifelike/