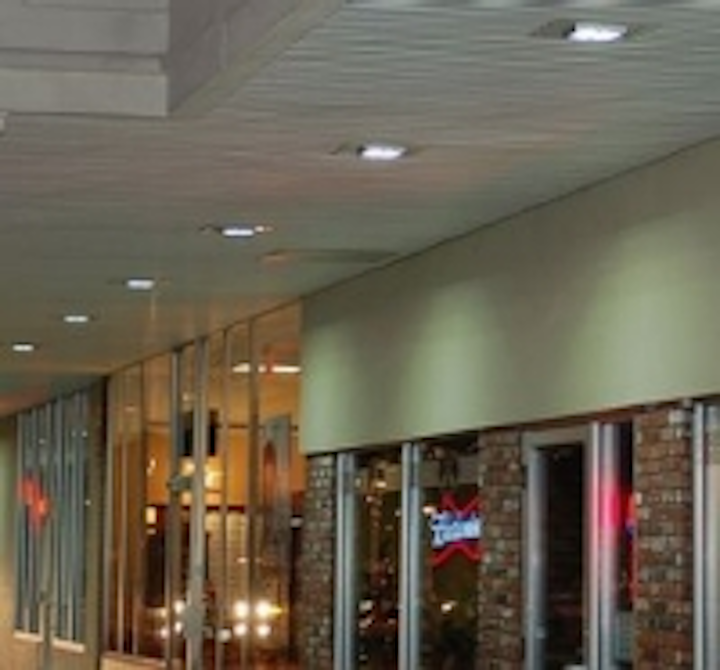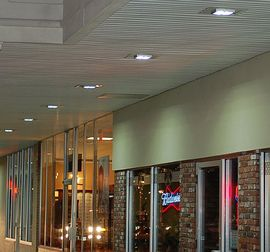 Date Announced: 10 Oct 2013
Peabody, MA – International Light Technologies (ILT), a leading designer, manufacturer and distributor of LED-based lighting products, has introduced SoffitLight LED Retrofit Kits.
ILT SoffitLight LED light fixtures are easy-to-install, cost-competitive retrofits for existing energy-inefficient, high maintenance metal halide light fixtures in a wide variety of soffit lighting applications.
ILT SoffitLight features include:
- On DesignLights Consortium (DLC) Qualified Products List (QPL) - Utility rebate eligible
- Long fixture life – YEARS vs. weeks/months
- Significantly reduced energy consumption – 33W LED vs. up to 200W metal halide
- No ceiling cutting - Easy, fast installations
- Focused light – lights walkway areas - does not "pollute" night sky
- 5 year warranty on SoffitLight & power supply
SoffitLight applications include retail mall exterior covered walkways, quick-serve drive-thrus, bank drive-up windows, fast-food exterior lighting - basically anywhere a facility has metal halide soffit lights installed.
Pete Couture, director, LED Lighting Products, said, "SoffitLight LED Retrofit Kits are ideal products for energy services companies (ESCOs), real estate facilities managers, electrical contractors, etc. to specify for exterior retrofit lighting because they are energy rebate eligible (on the DLC QPL) and are easy to retrofit into existing metal halide soffit light fixture locations."
A recent ILT SoffitLight customer provided the following endorsement of SoffitLights to the ESCO that ILT partnered with to complete this project: "A short note to let you know how satisfied we are with the installation and operation of the new outside lights (ILT SoffitLights) installed on our various retail and office buildings.
Every comment from our multiple tenants has been positive. We will contact you later as we prepare to upgrade our other properties. Thanks again." (The case study detailing this retrofit project is available on the ILT SoffitLight Web page.)
About International Light Technologies (ILT):
For over 45 years, ILT has provided direct and OEM customers in commercial, industrial, academic and research
markets with light measurement and detection systems, and a broad range of off-the-shelf and customized
specialty light sources. The ILT LED Innovations Division designs and manufactures LED-based products
including food/beverage cooler and open/reach-in/produce case lighting, gasoline pump canopy lighting, soffit
lighting, and a complete line of LED sign modules for illuminated signs.
Contact
International Light Technologies (ILT) 978-818-6180
E-mail:dingalls@intl-lighttech.com
Web Site:www.intl-lighttech.com