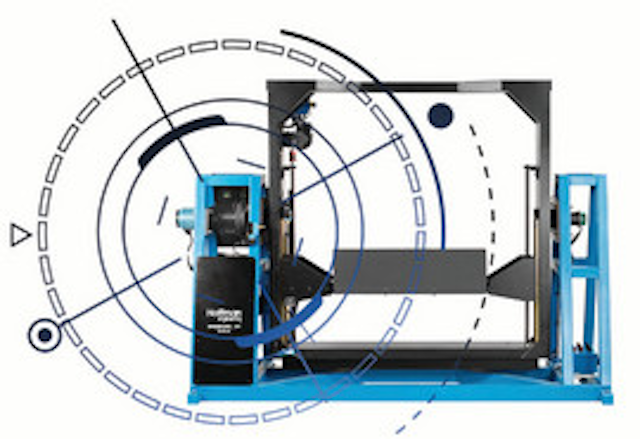 Date Announced: 23 Oct 2013
Stamford, Conn. - Hoffman Engineering offers a complete line of goniophotometer systems designed to measure and analyze the luminous intensity of both steady-state and strobe/flashing light sources of all types and technologies. Used to validate light sources to domestic and/or international industry standards, these systems include both the goniophotometer device and a comprehensive, user-definable software suite that allows programming, manipulation and modification of specific tests. Hoffman goniophotometer systems provide NIST-traceable photometric and radiometric measurements of light output from 0.01 candelas to more than one million candelas. Values can be measured and recorded with flash rates up to 200 KHz with certifiable accuracy.
Designed for precision, accuracy and reliability, Hoffman goniophotometer systems are designed with strong, stable frames that accept all types and sizes of lights in a range of spectrums including visible/photopic, night vision (NVIS), IR and shortwave IR (SWIR). Goniophotometer units are available in 18-inch tabletop, 30-inch open top, 40-inch, 60-inch, and 80-inch designs to accommodate a wide range of light assemblies including individual LEDs, bulbs, automotive front or rear-end panels, buoys, port lighting, and obstruction lights. Hoffman heavy duty (HD) series goniophotometer systems test larger, heavier lighting devices. Several versions are also available with five-axis positioning capability.
The modular design of Hoffman goniophotometer systems can be easily customized for specific testing needs or facility requirements, and are easy to enhance or upgrade. The software suite is also fully customizable for the needs of the user. System software options include measuring capabilities for ISO-candela scanning, reflector/reflex testing, strobe, gradient, NVIS/IR/SWIR, and full spectrophotometer measurements.
By adding an XY positioning table, any Hoffman HD goniophotometer frame can run multiple function lighting devices from start to finish with automatic repositioning and switching of power supplies. Operator interaction is not required for repositioning the light assembly or changing electrical connections between functions.
Established in 1955 and based in Stamford, Connecticut, Hoffman Engineering is dedicated to designing, engineering and manufacturing state-of-the-art LED lighting and photometric test equipment to meet the demands of aerospace, ground support, shipboard, military, space-related and other higher technology applications. The company's product line includes photometric test equipment, night vision goggle test equipment, luminance standards and engineered solutions for the lighting industry. Offering services to customers and the industry at large, Hoffman's fully equipped NIST traceable and ISO-9001:2008 certified laboratory is capable of spectral testing, calibration of lamps and standards, repair and calibration of photometric equipment.
Contact
Hoffman Engineering +1-203-425-8900
E-mail:sales@hoffmanengineering.com
Web Site:www.hoffmanengineering.com