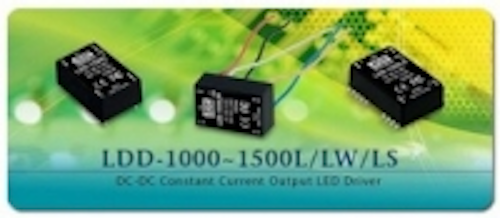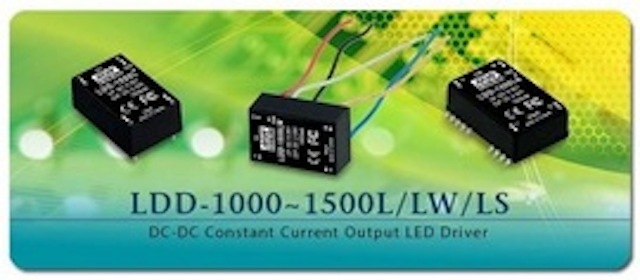 Date Announced: 30 Oct 2013
After the launch of LDD-300~700L/LW/LS series, MEAN WELL further introduced the new LED drivers with 1000mA/ 1200mA/ 1500mA output current ~LDD-1000~1500L/LW/LS series, in order to fulfill the higher current output requirement for DC-DC LED constant current driving purpose. These Buck converters feature with 6~36VDC input and 2~30VDC output and offer pin style (L-type), wire style (LW-type) and SMD (LS-type) packages. Accompany with the LDD-H (300~1000mA) and LDD-L (300~700mA) series, MEAN WELL currently can offer the DC-DC LED drivers in three different package types from 300 to 1500mA output current and satisfy the demand of various driving current and installation designs.
With non-isolated Buck topology design and high quality components, LDD-1000~1500L/LW/LS series possess up to 95% of extremely high efficiency and can operate between -40~+71°C of ambient temperature by only free air convection. Built-in EMI filter, these LED drivers comply with EMI requirements per EN55015 lighting regulation without connecting any external EMI restraint components. Other standard functions include remote ON/OFF control, PWM & analog dimming, short circuit protection, and wide range of input/output voltage. Besides, to provide the ability of anti-dust and anti-moisture, the pin style and wire style are glue potted models, while the SMD style (without glue) are models with optional conformal coating. Suitable applications include street lighting, landscape lighting, tunnel lighting, household lighting, and all kinds of indoor/ outdoor LED lighting systems. They are suitable to be used along with all kinds of MEAN WELL AC/DC LED power supplies to provide the stable and balanced current for LED lighting fixtures with multiple LED channels connected in parallel.
Features:
- Constant current (C.C.) mode output
- Wide input / Output voltage range
- 95% high efficiency
- Built-in PWM and Analog dimming function
- Remote ON / OFF control
- Cooling by free air convection
- Protections: Short circuit
- UL94-V0 level plastic case
- L/LW-type: potted; LS-type: non-potted, optional conformal coating
- Approval : FCC/CE EN55015
- Series models
- 3 years warranty
Contact
Mean Well Enterprises Co., Ltd.
E-mail:info@meanwell.com
Web Site:www.meanwell.com