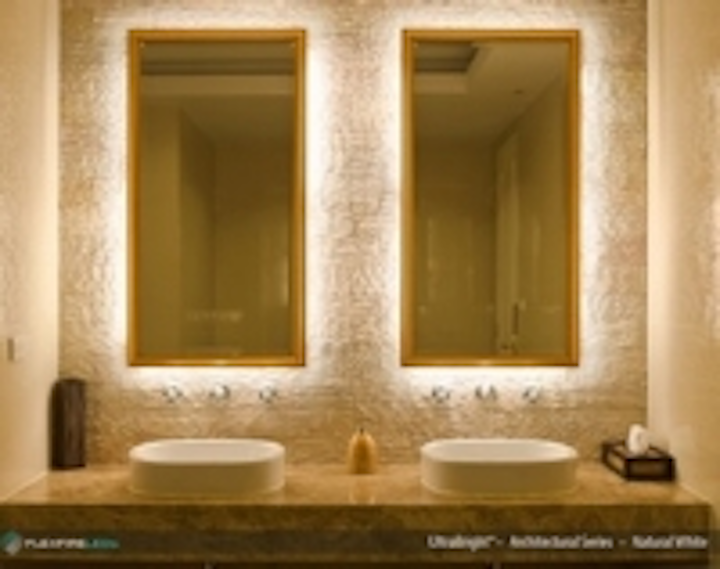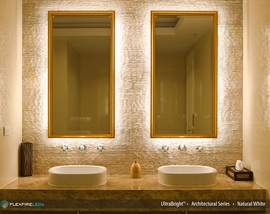 Date Announced: 25 Oct 2013
Santa Ana, CA--- North American LED lighting products supplier Flexfire LEDs, inc. has a versatile new color in its popular lineup of UL listed UltraBright™ and Colorbright™ LED strip lights. Natural White offers a unique, highly attractive color temperature, a happy medium between the brand's powerful Bright White and softer Warm White colors. Like other colors in their flexible LED strip light series, the new Natural White LED strips are available in 16-foot reels.
Flexfire launched this new color in response to rising consumer demand for LED strip lights across a more varied set of applications. All too often, choices are limited to the high-intensity lighting found in an industrial factory or the soft glowing light in a bedroom or family dining room. Natural White bridges this gap, providing ample light for more dynamic activities without the harsh glare found in many industrial settings. It's the perfect solution for kitchens, bathrooms, office spaces and other common areas. Technical data is available and the color temperature (CCT) is 4000k - 4500k depending on customer needs.
This new product launch is an indication of the robust growth in LED popularity, as well as Flexfire's goal to remain an industry leader in providing customers with high quality sustainable, energy-saving lighting solutions.
As more and more people are discovering, LED technology delivers a dramatic improvement in visual quality at much lower wattage consumption levels than those found in traditional lighting. It's better lighting that costs less, utilizing a sustainable, environmentally friendly technology that works in all kinds of consumer and commercial applications.
Thanks to their tremendous versatility and ease of installation, LED strip lights are a significant driver of overall sector growth. These strips feature tiny LED chips in a variety of colors and configurations, delivering all the technological and aesthetic benefits in a flexible adhesive-backed strip that's just a few millimeters thick.
Colorbright™ and UltraBright™ Natural White LED strip lights and many other UL listed LED lighting products and accessories are available now at http://www.flexfireleds.com.
Based in Santa Ana, California, Flexfire LEDs, Inc. provides high quality, UL listed architectural LED lighting products and accessories for industrial, commercial and residential applications. Its entire team believes in promoting sustainable practices wherever possible, and is committed to supporting the ongoing transition to LED lighting as part of this belief.
Flexfire aims to achieve this by providing outstanding customer service and comprehensive educational material on its website. The company offers a 2-year warranty on all its products, and has worked with clients such as NASA, Lockheed Martin, and Delta Airlines.
Contact
Flexfire LEDs
E-mail:Ollie@flexfireleds.com
Web Site:www.FlexfireLEDs.com