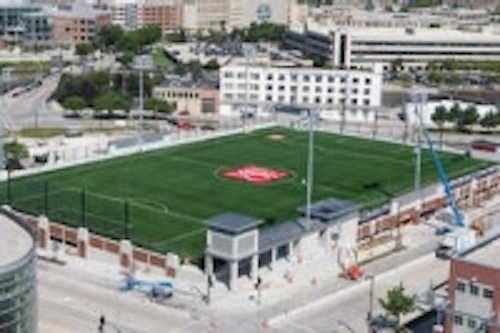 Date Announced: 30 Oct 2013
University builds all-LED lit athletic field atop parking garage
Construction is complete on the first all-LED lit athletic field in the United States. The synthetic field at Milwaukee School of Engineering (MSOE) was built atop an in-ground 780-car parking facility for the university and is being used for collegiate soccer and lacrosse, as well as club sport rugby and youth sports.
The MSOE Athletic Field and Parking Complex opened Aug. 23 in Milwaukee, Wis. The $30 million project is the first major development of its kind in Milwaukee's Park East Corridor. The development was largely supported with a very generous donation from Drs. Robert and Patricia Kern. Robert Kern is a member of the MSOE Board of Regents.
LED lights are used extensively in the complex, including all of the lighting on the field and throughout the parking garage. The field lights can be dimmed depending on the use of the field, and motion sensors throughout the parking garage decrease the lights to 50 percent brightness when there is no activity.
Dr. Alan Ruud, MSOE chairman of the board and MSOE alumnus, donated all of the lighting for the field and parking complex. Ruud is also vice chairman-lighting of Cree Inc.
The LED lighting uses one-fourth the amount of energy that would be required by equivalent traditional metal halide fixtures. Taking all of these items into consideration, the facility could save up to 200,000 kilowatt hours annually as compared to a similar facility lit 24 hours a day/365 days per year with non-LED fixtures.
Not only do LED lights cost less to operate, they provide a full range of dimming opportunities. This will allow MSOE to change the brightness on the field based on how it is being used: official NCAA games, practices, student assemblies, maintenance, etc. MSOE will be able to "right size" the light level and energy usage through the combination of the LED light fixtures and the lighting control system. Most other fields use standard HID light fixtures, which are not physically capable of being dimmed, requiring a one-size fits all use.
MSOE is an independent, non-profit university with about 2,500 students celebrating its 110th anniversary. MSOE offers 20 bachelor's degrees and nine master's degrees in engineering, business, mathematics and nursing. The university has a national academic reputation; longstanding ties to business and industry; dedicated professors with real-world experience; a 94% placement rate; and the highest average starting and mid-career salaries of any Wisconsin university according to PayScale Inc. MSOE graduates are well-rounded, technologically experienced and highly productive professionals and leaders.
Contact
JoEllen Burdue, MSOE director of media relations +1-414-277-7117
E-mail:burdue@msoe.edu
Web Site:www.msoe.edu/welcome