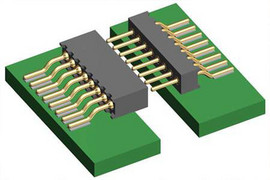 Date Announced: 16 Dec 2013
Connectors for LED Lighting Applications
Mill-Max addresses the connector needs of the growing field of LED lighting applications with products such as receptacles and sockets suitable for LED Bi-pin bulbs and interconnects ideal for co-planar mating of LED driver boards. We offer a variety of through-hole and surface mount products suitable for LED lighting requirements. All
of these components are made to the same high quality and precision expected of Mill-Max products.
Co-Planar Board Mating
LED lighting applications, such as strip lights, often require end-to-end mating (daisy chaining) of boards. Mill-Max manufactures through-hole and SMT interconnect solutions readily available to satisfy this requirement. Our line of horizontal surface mount (HSMT) connectors are available on .100" and .050" grids. These headers and sockets have Z-bend style lead terminations providing a low profile and easy inspection of solder joints (Fig. 1).
About Mill-Max Mfg. Corp.
Mill-Max is the leading US manufacturer of machined interconnect components with a vertically integrated manufacturing facility headquartered at 190 Pine Hollow Rd., Oyster Bay, NY 11771. Its full product line includes spring-loaded connectors, SIP, DIP, PGA and BGA sockets, board-to-board interconnects and pin headers, surface mount and custom products, PCB pins and receptacles, solder terminals, wrapost receptacles and terminals. The company's complete manufacturing facility includes engineering, tooling, primary and secondary machining, stamping, plating, injection molding, and assembly.
For more information, download the application note at the link below.
Contact
Mill-Max Mfg. Corp. +1-516-922-6000
E-mail:robin.ritter@mill-max.com
Web Site:https://www.mill-max.com/assets/products/application_notes/LED%20Lighting%20Application%20Notes.pdf