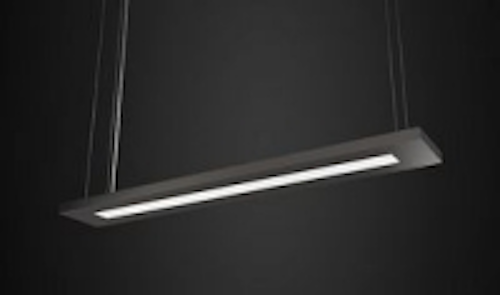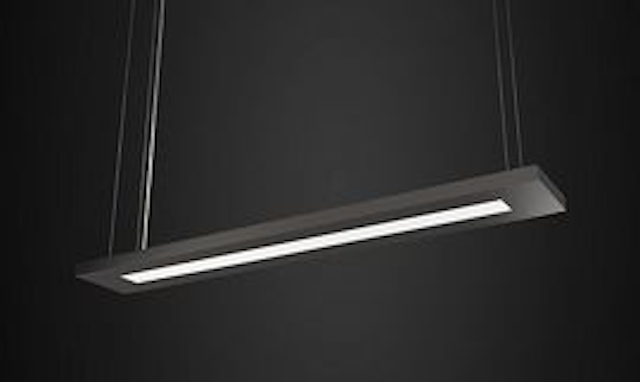 Date Announced: 04 Dec 2013
New LED Direct/Indirect Suspended Luminaires: Introducing Alameda1 From a-light
New product introduction: alameda1 — Designed for the new "Elements" clean, discrete and simplistic product line, this energy-saving direct/indirect suspended luminaires integrates with architecturally-designed commercial interior spaces.
Design: The a-light In-House Lighting Design and Engineering Team.
Manufacturer: The a-light division of AmerillumBrands, U.S. manufacturer of energy-saving LED and linear-fluorescent lighting exclusively.
Product applications: alameda1 delivers visually comfortable low-glare, highly energy-efficient ambient illumination for a broad range of commercial, institutional environments. These include corridors, offices, reception areas; libraries; schools and universities; upscale retail; hospitals, clinics, laboratories and physician offices; museums and galleries; entertainment venues, hotels, merchandise showrooms and more. Wherever the need for high-performance lighting coincides with a desire for integral architectural design and exceptional energy conservation.
Product description: alameda1 is characterized by, and memorable for its slender, low-scale, rectilinear design. Luminaires are low-profile suspended designs with simple, unobtrusive lines. They are a mere 1.5 inches high, only 8.5-inches across with a 3-inch aperture, available in four standard lengths, two, three, four or eight feet.
The a-cirrus™ lens option presents a "no lamp image" diffusion, in an opal acrylic flat lens. The wide 3-inch downlight aperture provides an even direct/indirect distribution. Fixtures suspend from ceilings via dual cables or a single-yoked 1-mm stainless-steel aircraft cable with adjustable safety fittings, terminating into square canopies. Choose from two end cap variations: elongated solid or open-ended art-deco version.
Luminaires are available for use with dual cross section T5 or T8 fluorescent lamping, but ideally, LED light with a choice of options and outputs allows maximum lighting-design flexibility, whatever the requirement. Only high-performance Nichia LEDs are used. The LED option is available with low, standard or high outputs: Low output equals 200 lumens/ft at 6 watts/ft. Standard output equals 1000 lumens/ft. at 14 watts/ft. High output equals 2000 lumens/ft. at 28 watts/ft.
A precision-formed proprietary internal reflector design, and optimal LED spacing, minimizes any "dot-dot-dot" appearance from LEDs. Units set new standards for even, high-efficiency, high-color rendition white-light distribution. Color temperatures are available in 3000ºK, 3500ºK or 4000ºK.
alameda1 LED models operate on a 12V DC system with 120V to 277V constant voltage. Low temperature performance to –40ºC. A zero to 10V dimming module is available. Units comply with IES LM-79 and LM-80 performance standards. LED combination lamp/driver is rated for 60,000+ hours, has a 5-year factory warranty.
LED boards are designed and manufactured in-house using precisely-binned Nichia® diodes on high-quality, aluminum-clad boards designed for maximum heat dissipation. Appropriate thermal controls ensure proper fixture performance. Manufacture of a-light's own boards allows shorter lead times, superior quality control, greater cost-competitiveness, and provides flexibility to quickly update specifications based on new technology. All a-light luminaires and LED boards are made in America, in the company's own modern architect-designed plant.
Construction & finishes: alameda1 fixture housings are constructed from high quality 60% recycled aluminum extrusions, with precision milled aluminum endcaps. An alightanium™ low environmental impact powder-coated finish is standard; satin black, satin white, textured eggshell white or other custom colors may be specified. alameda1 is UL, cUL damp listed standard; Made in America.
Contact information: Visit a-light on the World Wide Web to find your local independent or factory representative, at www.alights.com. a-light is located at 3728 Maritime Way, Oceanside, California 92056.
alight is a division of AmerillumBrands, a multi-faceted, multinational, modern-day manufacturer of specified, contemporary, energy-saving lighting exclusively.
Contact
a-light, a division of AmerillumBrands +1-760-727-7675
E-mail:tshaffer@alights.com
Web Site:www.alights.com